University Graduates
University Graduates
No matter if you have completed engineering or business studies - we offer you first-class prospects for your future at KHS GmbH. Ideally, you have already acquired and expanded on some practical experience. If you would now like to profitably apply your sound specialized knowledge gained from your studies in a company, you've come to the right place.
We offer you two options for joining KHS - you can immediately fill a vacancy via an accompanying familiarization phase or qualify for a specialist or managerial position in our company by participating in trainee programs.
Direct entry
If you already have practical professional experience, have a clear idea of your work, and feel ready to enter your field directly, you can immediately begin your successful career with us. We will provide you with an experienced member of staff who will assist you in becoming familiar with your work. Look in the Professionals section for information on our current job opportunities.
Trainee program
We offer interesting programs that will prepare you for assuming responsible tasks and acquiring the qualifications necessary for certain activities. On-the-job and off-the-job training activities provide well-balanced support which will enable you to become ideally accustomed to your professional life and quickly establish important contacts through support in your specialized area and with networking.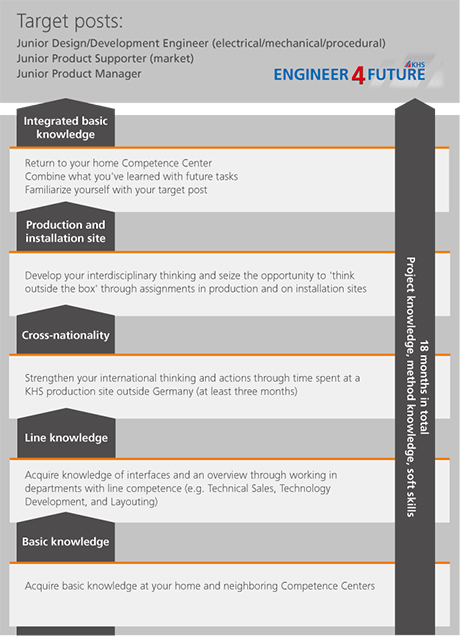 Engineer4Future
The Engineer4Future trainee program addresses graduates of electrical engineering, information technology, mechanical engineering, and comparable engineering courses of study. Graduates will be equipped with the knowledge and skills for their target positions in five training blocks (see chart below - Sequence trainee program Engineer4Future) that involve the following fields:
development
product management
product support (technical sales)
You might also be interested in