Fields of application
Fields of application
As a globally active company, KHS offers you numerous opportunities to prove yourself in various areas of activity and at various locations worldwide. As a member of our team in our German plants in Dortmund, Bad Kreuznach, Worms, Kleve, or Hamburg, you will stand up to the challenge and bring your commitment and your expertise into our company. Naturally, you can also support our colleagues in foreign production locations such as Mexico, Brazil, India, China, or the USA. Furthermore, if you are employed in Sales or Service, further KHS branches in over 60 countries around the world are open to you. Get to know and appreciate KHS from its international side.

Support around the globe
Regardless of the company or activity to which you bring your ideas and specialist knowledge, in achieving our common goals you will always be encouraged and supported with sustainable personnel development systems. We support you along the way and offer you the framework for developing yourself and your potential in order to advance both professionally and personally in accordance with your wishes and visions.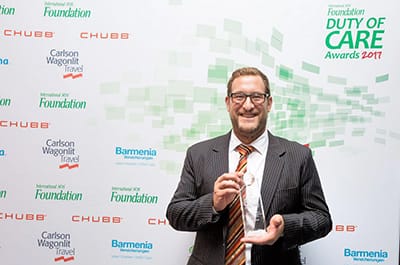 Safety takes priority
In order to ensure that all of our employees work in safe conditions and stay healthy, various protective measures, occupational health care programs and specific help in an emergency are fixed features on our agenda. One particular challenge is the duty of care to our employees working outside Germany. We are thus particularly proud to have received the renowned Duty of Care Award for our commitment in this area.
In presenting this award the assessment committee has demonstrated that KHS GmbH is continuously working to provide personnel on assignments outside Germany with a safe environment. Specific safety-related issues and budget requirements are therefore addressed and taken into account during the sales phase, for instance. A risk assessment of the various project locations is carried out and any necessary measures, such as safe transportation and accommodations, agreed upon with customers or initiated by our company. If necessary, KHS also performs audits in relation to safety during projects. Together with our system of crisis management and the offers for employees provided by our company health management program we were able to gain first place among the many projects submitted for the award.
Your tasks are as diverse as our products
Regardless of whether it's in production on-site in one of our plants; in the Logistics department, which ensures that our products get to our customers quickly and safely; in KHS Service or in Research and Development, which brings forth many innovative products and therefore positions us sustainably as a specialist in our industry — we are looking for people who want to achieve big things with us.
But perhaps your talent is in sales, and you would prefer to be involved in active customer contact... No problem! We have a lot of exciting tasks waiting for you here as well.
Become part of our team. We look forward to hearing from you!