drinktec 2022: OUR PATH INTO YOUR FUTURE
At long last, meeting in person again! We are already looking forward to welcoming you to drinktec in Munich and to taking a look into the future with you. A wide range of reliable and promising filling and packaging systems awaits you. In focus: increasing overall system efficiency as well as extending the system life cycle of your production operation.
OUR PATH INTO YOUR FUTURE
Future-proof, flexible filling and packaging systems, reliable on-site solutions and digital services, environmentally-friendly and circular packaging concepts and much more await you at KHS' trade show booth at drinktec in Munich, Germany.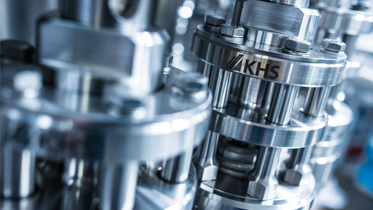 Blocked content
This YouTube video is blocked because you have not agreed to the YouTube service. By clicking the button you can change the cookie settings and play the video.
drinktec 2022
Opening times for visitors:
September 12 to 15, 2022, 9.00 am
to 6.00 pm
September 16, 2022, 9.00 am to 5.00 pm
Messe München
Exhibition center
81823 Munich
Germany
Find us here:
B4.336
More information can be found on the drinktec website.
Do you have any questions or would you like to make an appointment now?

Then contact us at drinktec[at]khs.com.
The beverage industry is faced with enormous global challenges. We would like to provide you with answers to urgent issues regarding protection of the climate and resources with respect to our products and systems. What is needed to achieve low-emission, most efficient and long-lasting value creation in your filling and packaging processes? And how will we continue to ensure product and consumer protection? What will the packaging of the future look like?
Even today you already profit from our economical and durable filling and packaging systems. In the future, the primary focus will be on the efficiency of your entire system. This requires a 360° view of all related processes. How do automated processes help in this regard? How much flexibility does a filling and packaging line require? What is needed to extend the life cycle of systems and what must the packaging of the future look like?
We constantly keep track of all of this, and with our four subject areas, Reliable Services, Smart Operations, Line Efficiency and Circular Packaging, we will clearly and impressively demonstrate innovative products at the trade show - foremost efficient new and further developments.
Explore – Exchange – Engage!
Interviews, videos and news from the industry and for drinktec – from KHS – for you! Enter now!
Enter now!
Insights into our services and solutions