Innoclean SE bottle washer
Innoclean SE bottle washer
High-performance, single-end bottle washer for sparkling clean results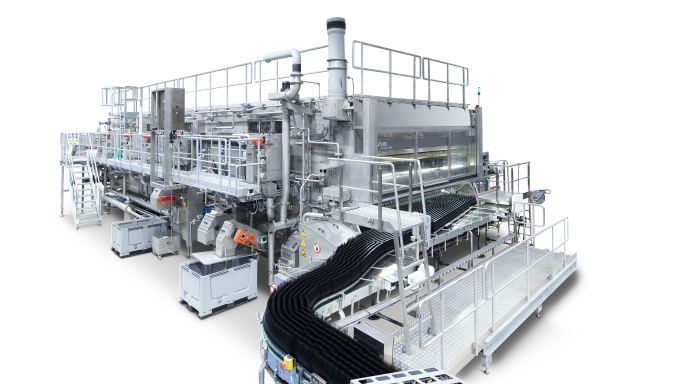 Good to know
Our high-performance Innoclean SE bottle washer enables you to get sparkling clean and hygienic results washing your refillable glass and PET bottles. This modular design bottle washer can be adapted to numerous individual bottle washing requirements. Beginning with washing equipment through specific bottle infeed and discharge configurations with kinematics adapted exactly to your range of bottle types, right down to the variable drive concept - the Innoclean SE leaves nothing to be desired. This machine enables you to effortlessly wash bottles at up to 170,000 bottles per hour.
Well thought out
The emphasis of our high-performance bottle washers is placed not only on perfect washing results. Gentle handling of your materials is also a key advantage of the Innoclean SE. For this reason, the machine is equipped with bottle pockets made of a special type of plastic in order to handle your containers as gently as possible. This bottle washer additionally boasts energy-saving bottle carriers that ensure minimum carryover of heat and liquids.
Convincing
Low energy consumption thanks to optimum water and heat management
Triple|i|Drive technology for maximum machine availability
Configurable according to operational requirements thanks to the modular design system
Sustainable
Minimized heat and liquid carryover results in noticeable energy and water savings
Profit from the hygienic and low-maintenance spray system
Vapor exhaust via slit minimizes the risk of recontamination
Consumables
KHS HIGH PRESSURE GREASE 02
KHS High Pressure Grease 02 is a water resistant extreme pressure lubricant.
Material numbers: 301142150204, 301142150210, 301142150202
KHS MULTI GREASE 01
KHS MULTI GREASE 01 is an high performance extreme pressure lubricant. It is suitable for centralised lubrication systems.
Material numbers: 301142150102, 301142150106, 301142150108
KHS GEAR FLUID 460
KHS Gear Fluid 460 is a fully synthetic high performance gear oil with EP properties which have been specially developed for use in machinery used in the food and beverage processing and packaging industry.
Material numbers: 301142110207, 301142110209