Innofill Glass DRS bottle filler
Innofill Glass DRS bottle filler
Tried and tested sytem for professional beverage filling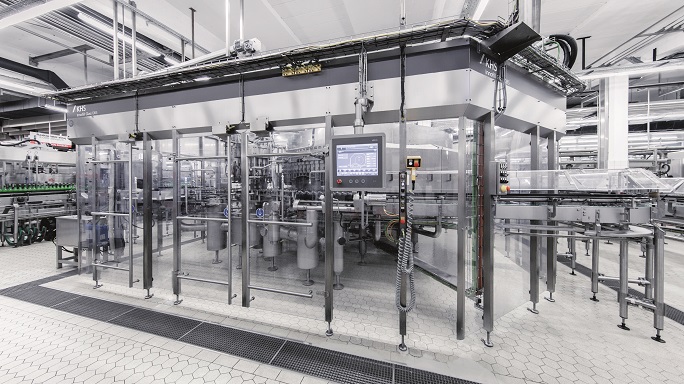 Good to know
We offer you the ideal system for smooth bottling of beer and soft drinks in glass bottles. Our flexible Innofill Glass DRS system equipped with the tried and tested Innofill DRS filling method process both carbonated as well as still beverages. Operating at capacities of up to 80,000 bottles an hour this high-performance machine is exceptionally fast and efficient. The newly designed bottle transfer provides capabilities for combining up to three cappers. The bottle filler is available on request with various capacity levels as a single machine or monoblocked with a bottle rinser. Our ECO vacuum pump additionally enables you to noticeably reduce your energy and media consumption.
Well thought out
Using probes for fill level measurement and the associated central fill level adjustment feature, the Innofill Glass DRS offers you particularly high machine availability and exact fill volumes. This results in significant product-saving potential. The bottles are also filled virtually wear-free and irrespective of the size and type of bottle and bottle neck materials used. Our two system model options cover a wide range of product types thereby assuring you a high degree of flexibility. The DRS-ZMS model bottle filler is designed to fill beer while the DRS-VF model bottles soft drinks, mineral water, and still products.
Convincing
Multiple evacuation ensures best possible technological values
Warm filling at up to 20°C prevents condensation on bottles
Modular design for maximum flexibility
Sustainable
Reduce your water consumption with the help of the ECO vacuum pump
Reduced CO2 consumption
Implementing hygienic design assures you a highest possible standard of hygiene
Consumables
KHS MULTI GREASE 01
KHS MULTI GREASE 01 is an high performance extreme pressure lubricant. It is suitable for centralised lubrication systems.
Material numbers: 301142150102, 301142150106, 301142150108
KHS SEAL & SILICONE GREASE 04
KHS Seal & Silicone Grease 04 is a high performance silicone lubricant specially developed for the grease lubrication and sealing of tapes, valves and fittings with EPDM seals (ethylene-propylene-diene rubber) in the food and beverage processing and packaging industry, with good resistance to hot water, steam and disinfectant solutions.
Material numbers: 301142150403
KHS LIFT FLUID AS 32
KHS Lift Fluid AS 32 is a fully synthetic high performance hydraulic fluid for long maintenance intervals. KHS Lift Fluid AS 32 contains an antimicrobial preservative to protect the lubricant from deterioration, fouling and odour caused by microorganisms.
Material numbers: 301142110805, 301142110811
KHS GEAR FLUID 220
KHS Gear Fluid 220 is a fully synthetic high performance gear oil with EP properties.
Material numbers: 301142110507
KHS GEAR FLUID 460
KHS Gear Fluid 460 is a fully synthetic high performance gear oil with EP properties which have been specially developed for use in machinery used in the food and beverage processing and packaging industry.
Material numbers: 301142110207, 301142110209
You might also be interested in