Innokeg Transversal AF-C
Innokeg Transversal AF-C
Flexible and space-saving washing and racking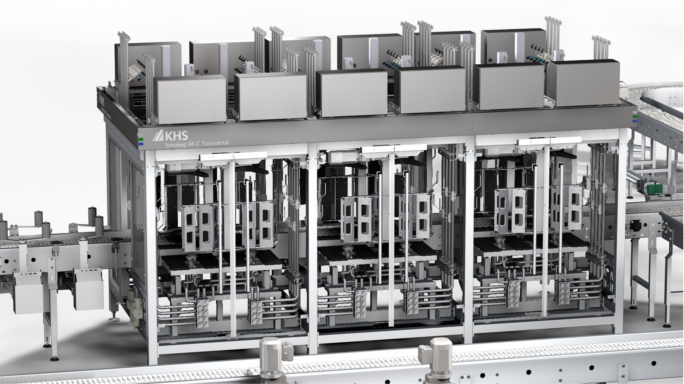 Good to know
With our Innokeg Transversal AF-C keg system we offer you a modular concept that enables you to both wash and rack your kegs reliably. Thanks to the innovative design of the machine, it is possible to switch between returnable and one-way kegs without conversion. The Innokeg Transversal AF-C is suitable for racking beer, wine and carbonated soft drinks in kegs at a capacity of about 250 to 700 kegs per hour.
Well thought out
The innovative design of the Innokeg Transversal AF-C ensures extremely space-saving and flexible handling. In contrast to competitor machines this Transversal AF-C concept is unique in that it operates with only a single conveyor belt which is centrally located between the processing stations. This enables you to use the Innokeg Transversal AF-C flexibly for returnable or one-way kegs without having to convert the system: returnable kegs can be first washed and then racked at the treatment stations; one-way kegs are simply conveyed by the conveyor belt through the washing modules and their treatment stations directly to the racking station. Thanks to the universal concept, the Innokeg Transversal AF-C can be expanded as required to include a pre-washer, washer, combo washer or racker without changing the frame, lifting table, pressure unit and controller.
The capacity can be increased at any time by retrofitting a treatment module (2 treatment stations) or the capacity can be doubled by integrating an entire module block (4 treatment stations per block).
Convincing
Compact: the centrally located conveyor belt achieves a space-saving machine design. The ratio between conveyor belt and processing stations is only 1: 2.
Flexible: you can quickly switch between returnable and one-way kegs without conversion.
Easily accessible: because the conveyors are located in the middle of the system, you can easily access the processing stations at all times.
Sustainable
Space saving: the innovative design of the Innokeg Transversal AF-C combines many options in a compact amount of space.
Energy saving: by using the new IE4 generation of electric motors in the conveyors we help you to reduce your electricity consumption.
Lower water consumption: the machine uses water twice by utilizing the rinse water as mixed water for pre-washing.