Innopack CA carton opener
Innopack CA carton opener
Our practical and reliable carton processing for professionals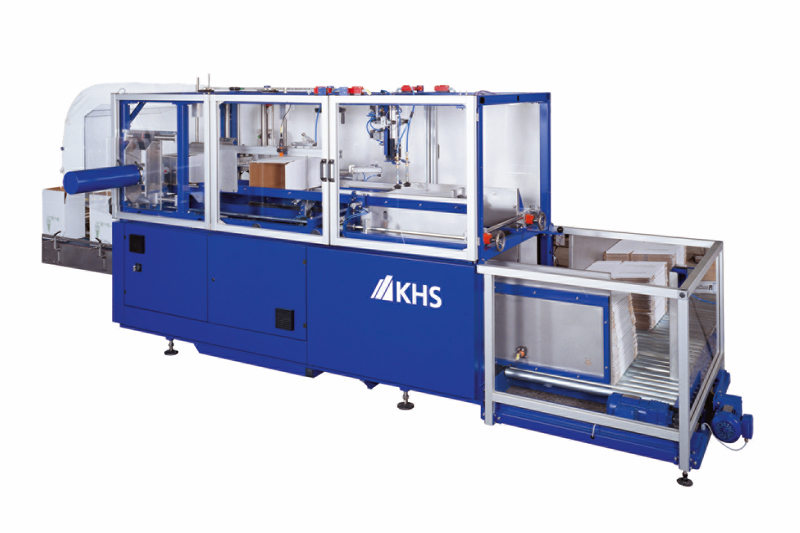 Good to know
High-quality products require stable packing. The Innopack CA is therefore the ideal, fully automatic carton opener for erecting folding cardboard boxes for packing and transporting your beverage containers. The fields in which the Innopack CA is used are extremely varied. After erecting the cardboard box blanks, the packing machine also folds in the bottom flaps and then glues them cleanly and reliably with hot melt. With capacities ranging up to 2,200 cartons/h, this carton opener works extremely quickly and efficiently.
Well thought out
Precise positioning of the carton is ensured by the pneumatic fixing of the carton blank. A particularly practical feature is that the finished cartons are upright when they leave the machine and are therefore immediately ready for subsequent filling. The carton opener can thus be easily integrated into your existing production processes.
Convincing
High flexibility thanks to a choice of pneumati

ca

lly-driven or servo-motor-driven sealing ram
Optional, fully automatic blank system enables high system availability

Highest quality standards ensure up to 98% machine availability
Sustainable
Benefit from low maintenance costs thanks to the use of lubri

ca

ted-for-life bearings
Reduce your energy consumption by using a motorized vacuum pump
Consumables
KHS MULTI GREASE 01
KHS MULTI GREASE 01 is an high performance extreme pressure lubricant. It is suitable for centralised lubrication systems.
Material numbers: 301142150102, 301142150106, 301142150108
KHS GEAR FLUID 460
KHS Gear Fluid 460 is a fully synthetic high performance gear oil with EP properties which have been specially developed for use in machinery used in the food and beverage processing and packaging industry.
Material numbers: 301142110207, 301142110209
Innocoll HMP E 5441
The product is a multi-purpose packaging adhesive that is used as carton sealing, tray erection, ream wrapping and assembly of difficult substrates. It has a good hot tack, low consumption and it is odour and smoke free.
Material numbers: 301244605120
You might also be interested in