Innopack CV carton sealer
Innopack CV carton sealer
Highest quality for professional carton packaging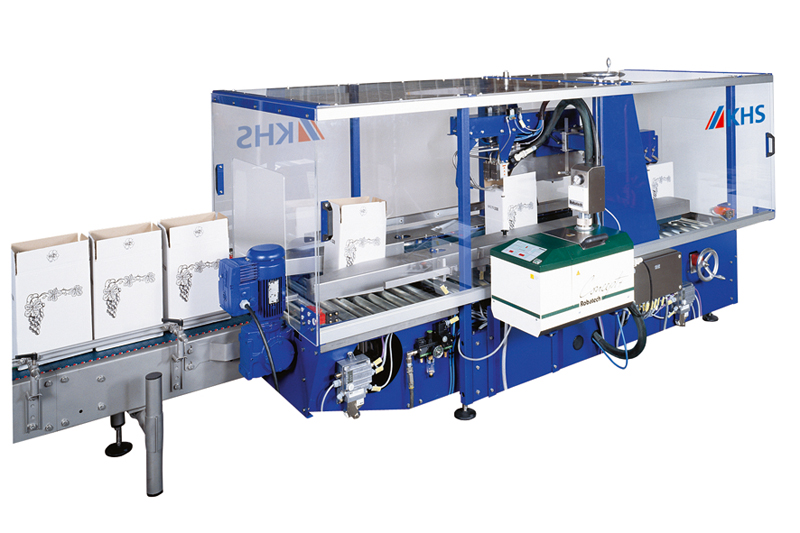 Good to know
With our Innopack CA, we offer the ideal solution for the reliable sealing of your cartons. Our fully automatic carton sealer is an outstanding complement to the Innopack CA carton opener and the Innopack PPZ packing machine. Throughputs of up to 3,200 cartons/h can be achieved depending on the carton length. The operating rhythm of this efficient carton sealer is determined by the run-through principle, which means that all operations can be carried out while the carton is still passing through the system. The CV has therefore shown itself to be particularly fast, efficient, clean and reliable!
Well thought out
The carton lid is glued with hot melt and sealed with extreme precision using centrally driven carton conveyor belts. This drive ensures perfect belt synchronization. It also enables a continuously high throughput to be achieved even at higher machine speeds. We use only cog belts for the drive elements. As a result, the machine handles your cartons particularly gently, while at the same time beneficially minimizing noise level, wear and maintenance effort. The carton sealer can therefore be optimally and seamlessly incorporated into your packing process.
Convincing
Maximum precision even with problematic lid shapes
High quality standards ensure up to 98% machine availability
Benefit from short changeover times thanks to central hand-wheel adjustment
Sustainable
Minimize your maintenance costs thanks to the use of lubricated-for-life bearings
Consumables
KHS MULTI GREASE 01
KHS MULTI GREASE 01 is an high performance extreme pressure lubricant. It is suitable for centralised lubrication systems.
Material numbers: 301142150102, 301142150106, 301142150108
KHS GEAR FLUID 220
KHS Gear Fluid 220 is a fully synthetic high performance gear oil with EP properties.
Material numbers: 301142110507
Innocoll HMP E 5441
The product is a multi-purpose packaging adhesive that is used as carton sealing, tray erection, ream wrapping and assembly of difficult substrates. It has a good hot tack, low consumption and it is odour and smoke free.
Material numbers: 301244605120