InnoPET TriBlock Aqua M stretch blow molder/labeler/filler
InnoPET TriBlock Aqua M stretch blow molder/labeler/filler
Three in one: highly efficient technology for single-serve PET bottles of still water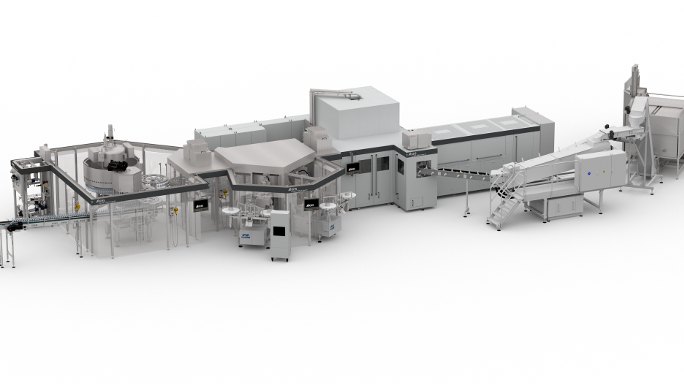 Good to know
The InnoPET TriBlock Aqua M performs three important steps in the manufacture of your PET bottles on just one machine. With it you can blow mold, label and fill single-serve PET bottles for still water – also lightweight containers of optimum quality.
Focusing on still water containers with a maximum filling volume of 700 ml results in a more compact machine with a higher performance density and smaller machine footprint thanks to new blow stations and faster filling valves. Format changeovers can be performed quickly and effectively. The stretch blow molder/labeler/filler block is available for large and small production lines and achieves a maximum capacity of 82,000 bottles per hour.
Well thought out
Thanks to the intelligent, direct blocking of the blow molder, labeler and filler on the InnoPET TriBlock Aqua M you boost your production efficiency. You also make savings as the air conveyor common to classic machines is no longer required. By concentrating on still water in small packs you benefit from a system which we have specifically developed and optimized for this application.
Convincing
Optimized design with a modular, space-saving layout
A reduced amount of tension on the label web during startup and stop situations makes it possible to use thinner labeling materials
Pre-glued labels make the gluing station redundant, thus eliminating hot melt vapors and resulting in less operating and maintenance effort
Sustainable
Efficient production of lightweight bottles with lower material costs and less effort
Innovative Adhesleeve technology1) enables thinner labels to be used, thus saving on materials
Focusing on single-serve bottles of still water boosts the overall efficiency for this application
1) "Adhesleeve technology" is a registered trademark of P.E. LABELLERS S.p.A.