Innosept Asbofill ABF 611 TWIN/ABF 712 TWIN aseptic filler
Innosept Asbofill ABF 611 TWIN/ABF 712 TWIN aseptic filler
Highly efficient aseptic filler for the gentle, germ-free bottling of sensitive products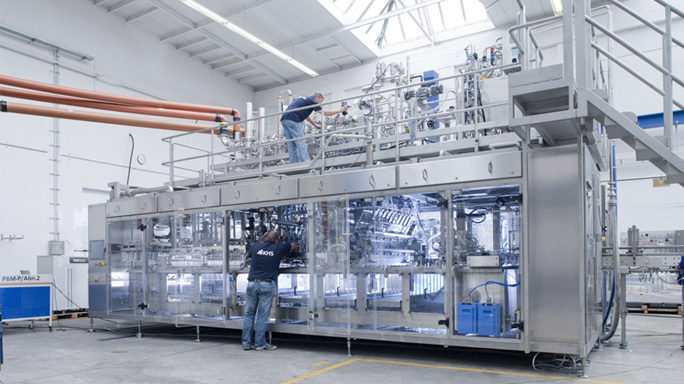 Good to know
A healthy lifestyle and increasing mobility in society are resulting in a steadily growing demand for functional milk beverages and dairy products in unbreakable plastic bottles. Our Innosept Asbofill reliably bottles the most sensitive of products, thus meeting even the highest demands for the utmost hygiene. The machine fills milk, mixed milk, sports, yogurt and coffee beverages and fruit and vegetable juices into PET and HDPE bottles in outstanding quality. Both fillers give excellent results for the medium capacity range of up to 24,000 bottles an hour. The difference between the two machines is their filling volume range, which is between 100 ml and 750 ml for the ABF 611 TWIN and from 250 ml to 2,000 ml for the ABF 712 TWIN.
The Innosept Asbofill ABF 712 TWIN is also available as a stretch blow molder/filler block.
Well thought out
The compact, modular linear design of this filler is particularly suitable for frequent format changeovers and small product batches and gives you maximum aseptic safety while requiring a very small aseptic zone. Our filler can be supplied with a servo capper and/or film/foil sealer, fruit chunk dosing unit and nitrogen application as required. Aseptic filling technology from KHS – safe, reliable and hygienic.
Convincing
Precise sterilization of bottles and closures

with H

2O2

aerosol

Independent of the bottle design, thus maximum process flexibility

Maximum aseptic safety in the minimum amount of space

thanks to the compact linear design
Sustainable
Profit in the long term from low operating costs

while enjoying a high level of production reliability

Do away with the need for extra water

during the production cycle

Our full maintenance program ensures

high efficiency and investment profitability
Options
Chunk dosing unit

Brief description: Special option for filling liquid and chunky products.

Characteristics: Filling of fruit chunks with max. dimensions of 10 x 10 x 10 mm

Containers/preforms: Up to 2,000 ml

Media:

Non-alcoholic soft drinks and dairy products with chunks
Products with chunks

Output: Up to 12,000 bottles per hour

Convincing: Chunks filled in a separate station

Nitrogen dosing

Brief description: The unit doses liquid nitrogen after filling. This reduces the amount of residual oxygen in the head space of the filled bottle.

Characteristics: Depending on the filler type, after filling residual oxygen values in the head space of ≤ 1% on linear machines (ABF/ESL) and ≤ 3% on rotary machines can be possible. This process allows the bottle weight to be reduced compared to a bottle without internal pressure.

Servo capper

Brief description: On the servo capper each capping element is controlled by a vertical/rotary servomotor. This enables all relevant capping process parameters for each bottle to be processed to be electronically monitored and controlled in real time.

Characteristics: At the end of the capping process the process parameters are evaluated and documented and any incorrectly capped bottles marked for rejection.