Innosept Asbofill ASR aseptic rotary block
Innosept Asbofill ASR aseptic rotary block
New modular system for hygienic filling with a flexible hygiene categorization class and output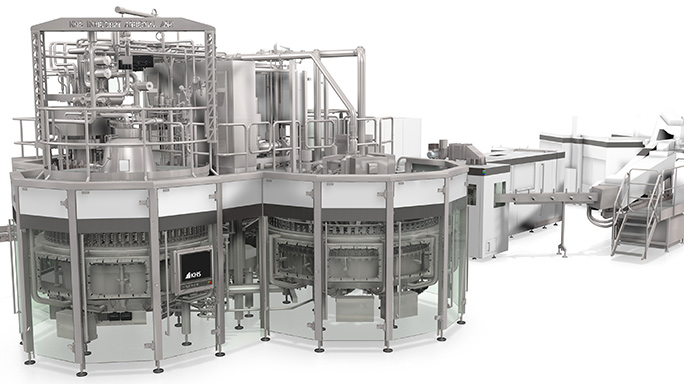 Good to know
Over the last few years aseptic filling has become increasingly important for good reason: it is a gentle alternative to the classic preservation of food and beverages which does not have a negative impact on either the taste or the vitamin content of products. The Innosept Asbofill ASR rotary block can be adapted to suit all three hygiene categorization classes for the filling of sensitive products (III: ultraclean filling; IV: extended shelf life; and V: aseptic filling). The new KHS block concept manages capacity ranges of between 24,000 and 36,000 PET bottles per hour holding from 250 ml to 1.5 liters.
Well thought out
The filling and capping machine is blocked with a standard blow molder. On the Innosept Asbofill ASR rotary block the preforms, bottles and caps are sterilized, with the Innosept Asbofill ASR much simpler and safer to operate than an aseptic blow molding machine.
As an alternative to tried-and-tested bottle sterilization the rotary machines feature a combined preform and bottle sterilization function known as the new Innosept Asbofill ASR 2Step process. At the first stage the preform is sterilized at the infeed to the stretch blow molder; in the second step the blown bottle is sterilized on its way into the filler. Thanks to this space-saving system in the Innosept Asbofill ASR 2Step process there is no longer any need for the previously necessary sterilization carousel which makes the drying module much smaller.
Convincing
Microbiological safety and cost benefits thanks to combined preform and bottle sterilization
Optimized cap sterilization is convincing with its innovative, two-way servo capper
The space-saving concept thanks to the modular system with its extremely small aseptic zone ensures maximum safety and ease of operation
Sustainable
Minimum aseptic zone through the room-within-a-room concept for a high level of product safety and easy cleaning
Modular system for short delivery times, low cost of investment and plant technology which runs at optimum capacity
Low media consumption: no water required in the stretch blow molding and filling process