Innosept Asbofill ESL 611 ESL 712 filling machines
Innosept Asbofill ESL 611 ESL 712 filling machines
Ideal linear fillers for the hygienic filling of all milk products for the cold chain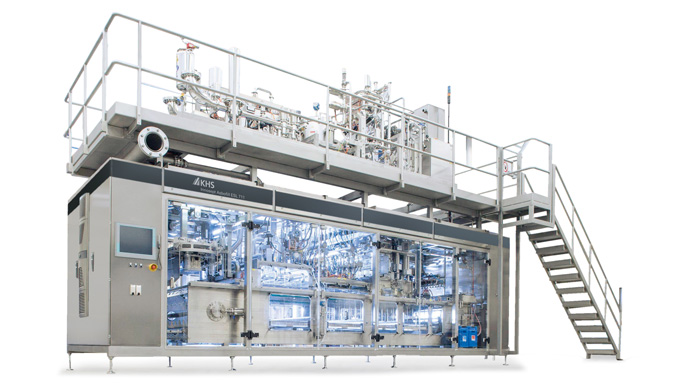 Good to know
With the Innosept Asbofill ESL series we have specifically developed linear filling machines for the bottling of ESL (extended shelf life) beverages. These high-performance machines are perfect for processing your sensitive dairy products hygienically.
You can count on our experience: many years of consistently further developed expertise gained in the field of aseptic technology have gone into the development of our ESL filling machines. Many of the components in the Innosept Asbofill ESL are the same as those used in tried-and-tested Innosept Asbofill ABF linear aseptic filling equipment that has been in operation at our customers' sites for many years.
Two machine types are available for ESL filling. While the Innosept Asbofill ESL 611 TWIN is able to process up to 24,000 plastic bottles holding from 0.1 to 0.75 liters per hour, the Innosept Asbofill ESL 712 TWIN is designed to handle 0.25 to 2-liter bottles at the same filling capacity. Single versions of both models with machine capacities of up to e12,000 bottles per hour are also available.
The Innosept Asbofill 712 ESL / TWIN are also available as a stretch blow molder/filler block.
Well thought out
The extremely compact, operator-friendly Innosept Asbofill ESL machine series not only offers you maximum product safety but also exceptionally high flexibility when it comes to planned product changeovers. Whether milk, mixed milk, yogurt beverages or fruit juices, ESL technology fills all types of beverage sold through the cold chain quickly and efficiently. The compact design is additionally capable of processing a very wide range of bottle shapes, materials and closure types. Thanks to the machine's modular concept we can supply you with optional fruit chunk dosing and nitrogen application.
Likewise compelling is the exceptionally small size of the sanitary room in the Innosept Asbofill ESL product series. The ESL 611 series requires a mere 0.7 m³, while the ESL 712 takes up only 1.2 m³ of space. You thus benefit not only from cost-effective maintenance but also from fast machine sanitizing.
Convincing
Very small sanitary room

for

low maintenance costs

and

fast sanitizing

Maximum flexibility:

fills all products sold through the cold chain

Compact design

and

extreme ease of operation
Sustainable
Profit from

low operating costs through maximum efficiency

No water used in the production cycle

Save time and money with the

predefined maintenance system