The compact InnoDry Block
The compact InnoDry Block
Innovative packaging and palletizing system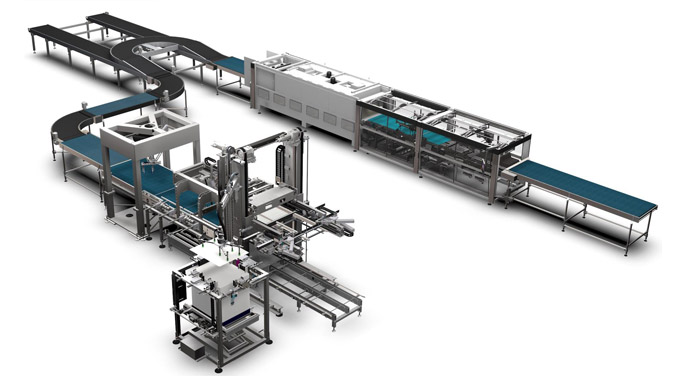 Good to know
We have developed the InnoDry Block as an absolute first in the beverage industry: a compact and flexible packaging and palletizing system as a block at the end of a KHS line. It is distinguished by its high line availability and low operator involvement and includes no fewer than three innovations on a single machine: an automatically adjusted conveying length thanks to a flexible buffer, a carry strip master integrated into the machine and a camera-controlled robot for exact positioning on the pallet. It can be used for lines with glass and PET bottles and cans.
Well thought out
Our new InnoDry Block packaging and palletizing system now also gives you a machine block at the end of your production line. It enables simple pack conveying thanks to a number of innovations. A flexible buffer integrated into the conveying segment makes sure that the packs are continuously fed to the palletizer without accumulation pressure and without pack guides. Removing the handling elements on the conveying segment – by integrating the carry strip master into the packaging machine the self-adhesive carrying handles are now applied to the pack when the film is unwound from the reel – saves space and makes operator intervention on the conveying segment unnecessary. Finally, the layer formation section is a first in palletizing for the beverage industry. A camera system detects the position and orientation of the incoming packs and passes this data on to highly dynamic handling systems. A reliable gripping motion is ensured by the interaction of both systems.
Further reading
New quartet for the palletizer
On the InnoDry block a palletizer intelligently controlled by optical sensors saves time and manpower – and provides great process reliability.
Learn more
Convincing
High line availability and fast changeover of all components in the block
Extremely compact machine design and short conveying segments make for a space-saving system
Gentle to products thanks to innovative technology which avoids accumulation sections and pack guides and provides optimum palletizing with a camera-controlled robot
Sustainable
Shorter downtimes nd less work effort
Less wear, lower maintenance effort and reduced energy consumption
Lower operating costs through continuous operation