Innofill Glass Micro DPG Bottle Filler
Innofill Glass Micro DPG Bottle Filler
Pneumatically controlled glass bottle filler with exact determination of fill levels for the low and medium capacity ranges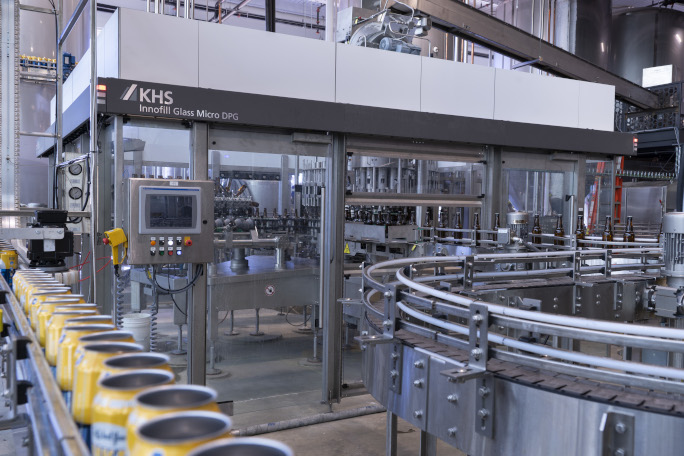 Good to know
With the Innofill Glass Micro DPG we offer you the ideal system for producing smaller outputs. Whether beer, mixed beer beverages, or soft drinks – this pneumatically controlled filling system offers you cutting-edge precision technology with flexible application capabilities. In contrast to the Innofill Glass DPG (up to 75,000 bottles/hr), the Innofill Glass Micro DPG is ideally suited for filling capacities of up to 20,000 bottles/hr. This bottle filler is available on request with various capacity stages as a single machine or monoblocked with a bottle rinser. Our ECO vacuum pump additionally enables you to noticeably reduce your energy and media consumption.
Well thought out
Little maintenance effort and high machine availability are above all the hallmarks of our glass bottle filler. With the help of quickly replaceable return gas tubes, the machine can be changed over to various bottle sizes in no time. Multiple evacuation and purging with CO2 ensure low oxygen pickup coupled with low CO2 consumption. Practical: All sequences of the Innofill Glass Micro DRS are automated and all processes are documented and are reproducible for you at all times. In the DGP Trinox filling system we now also have a filler with top oxygen values for wine, sparkling wine, and semi-sparkling wine in the medium capacity range.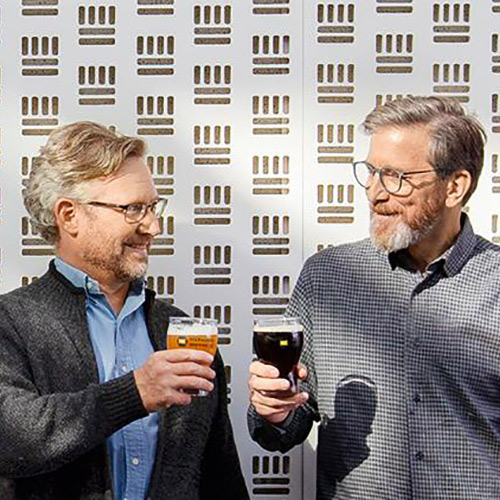 Further reading
Here's to a good partnership!
The Milwaukee Brewing Company (MKE) in Wisconsin, USA, sells craft beer – filled on the compact KHS Innofill Glass Micro bottle filler, for example.
Learn more
Convincing
Low oxygen pickup filling ensures biochemical safety
Return gas tubes for quick and easy determination of fill levels
The pneumatically controlled process enables you to easily set the filling zones.
Sustainable
Water-saving ECO vacuum pump
Profit from the long life cycle and minimum maintenance effort
The simple design facilitates fast and effortless sanitizing
Good to know: with our platform system you can add modules to your machinery to allow you to flexibly process further beverage types or container sizes in the future. This means that you are all set up to meet constantly changing future market challenges today. Invest in the long term and benefit from efficient maintenance and an optimum supply of spare parts – for increased line availability.
Images & videos
Consumables
KHS MULTI GREASE 01
KHS MULTI GREASE 01 is an high performance extreme pressure lubricant. It is suitable for centralised lubrication systems.
Material numbers: 301142150102, 301142150106, 301142150108
KHS SEAL & SILICONE GREASE 04
KHS Seal & Silicone Grease 04 is a high performance silicone lubricant specially developed for the grease lubrication and sealing of tapes, valves and fittings with EPDM seals (ethylene-propylene-diene rubber) in the food and beverage processing and packaging industry, with good resistance to hot water, steam and disinfectant solutions.
Material numbers: 301142150403
KHS LIFT FLUID AS 32
KHS Lift Fluid AS 32 is a fully synthetic high performance hydraulic fluid for long maintenance intervals. KHS Lift Fluid AS 32 contains an antimicrobial preservative to protect the lubricant from deterioration, fouling and odour caused by microorganisms.
Material numbers: 301142110805, 301142110811
KHS GEAR FLUID 220
KHS Gear Fluid 220 is a fully synthetic high performance gear oil with EP properties.
Material numbers: 301142110507
KHS GEAR FLUID 460
KHS Gear Fluid 460 is a fully synthetic high performance gear oil with EP properties which have been specially developed for use in machinery used in the food and beverage processing and packaging industry.
Material numbers: 301142110207, 301142110209