Bottles & Shapes bottle design
Complete consulting competence for the design, optimization, and production of your PET bottles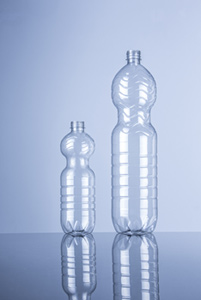 Each product development begins with an idea - this also applies to individual PET bottles that are designed to meet the requirements of their content. Frequently, however, the concepts and requirements are vague: for example, the bottle design is to accommodate the "look & feel" of the target group; the brand message must be conveyed as vividly as possible; the bottles should fit comfortably the hand and be as lightweight as possible and processible on existing lines; cost-effectiveness and sustainability are welcome.
With our comprehensive "Bottles & Shapes" program, we will join you exactly at this point and accompany you throughout the entire process of bottle design - from clarification of the ideas through development and production up to and including presentation at the point of sale. A special aspect: thanks to our comprehensive consulting expertise and more than forty years of expertise in the field of PET lines, you can rest assured that the entire project is in competent hands at all times.
On the one hand we have our eye on the entire process; on the other we focus our specific attention to the important details, from which you greatly profit. In this way we place our extensive experience as a pioneer in lightweighting at your disposal, for example. We have developed the lightest 0.5-liter PET bottle with a screw cap for highly carbonated beverages which weighs just 9.9 grams. This innovation has been supplemented by our most recent design study: the lightest 0.5-liter PET bottle for still water currently available on the market weighing just 5 grams. Its innovative design is perfectly adapted to suit the required load, enabling huge material savings with the best possible stability. This results in fewer CO2 emissions which in turn meets the growing demand of consumers for ecologically sustainable packaging. In addition this innovative approach has a positive effect on the costs of production as about 70% of the manufacturing costs are attributable to the materials used.
"Fact is that the world's lightest weight 0.5-liter screw-cap PET bottle used in practice for heavily carbonated soft drinks weighs only 9.9 grams. This development is available only at KHS."

Arne Wiese, Bottles & Shapes Product Manager
Numerous aspects play a role in the development of the ideal bottle design: The PET bottle not only has to satisfy the desired individual aesthetics requirements, but also has to consider the psychological and brand-specific aspects in addition to fulfilling many demands for functionality and economy. Ultimately, the requirements are to be implemented as efficiently and inexpensively as possible and at the same time satisfy the requirement for top quality. Our unique and comprehensive Bottles & Shapes Line service offers you all this and more. Our goal is to offer you a sustainable, cost-effective, flexible, and reliably producing beverage bottling line.

The idea Together with you, we will discuss the ideas and concepts of your individual bottle design. Even in this first step, it is important to take into account that the high requirements for aesthetics and uniqueness on the one hand are optimally combined with technical functionality on the other. This is the only way that we can ensure that perfect bottles are produced and that they are appealing to consumers both in appearance and with regard to handling.


Design We will prepare a rough full-scale sketch of the bottle design that already takes all underlying data of an optimal production line into account and at the same time is a convincing attractive, individual design. On request, we will offer a label design and cap suggestions to round off the holistic presentation of your new bottle design to create a perfect all-in-one appearance.


3D animation We will create a 3D animation of your bottle with the help CAD technology which will enable you and us to make an initial assessment of the bottle shape and then systematically optimize it. The data gleaned at this stage also forms the basis for the blow mold which is then built after the final decision on the bottle design has been made.


Prototype With the aid of ultramodern 3D printers we will produce a prototype that is quickly available as a plotted model. We will then simulate all relevant influences on the bottle in virtual trial tests. This saves time and money and the resulting suggestions for optimization of the bottle design can be quickly evaluated and implemented. Once the decision regarding the design has been made, the PET experts at KHS will recommend the ideal preform.


Laboratory Based on this optimum pilot-scale preform, sample bottles are produced on a laboratory stretch blow molder that operates exactly like the one that will be used in practical operation later. Under certified laboratory conditions testers then subject the sample bottles to all factors which will later play a role in production, during transport, and finally in the hands of the consumer.


Bottle When the test results confirm all specifications, we will produce wear-free blow molds in premium "Made in Germany" quality. Even extremely complicated milling contours and individual textures are precisely implemented. Bottle shrinkage factors during cooling after stretch blow molding, individual venting holes, and the perfect release of the bottles from the mold halves all make a decisive difference in the mold design. Any necessary format-dependent modifications coordinated with you during the course of the project then result in an optimally functioning line and perfect bottles.
"We make sure that your initial idea becomes a marketable bottle that suits your customers exactly."

Claudia Schulte, self-employed packaging designer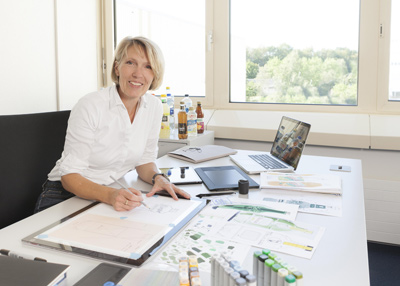 Regardless if a new or regular customer, we provide you with all our expert knowledge and make sure that your initial concept becomes a container that is exactly right for you. Thanks to our line competence and a system solution that is tailored to your requirements, production is always cost-efficient, fast, and flexible. Accelerated format conversions ensure that you can introduce new products smoothly and thus profit from high production reliability. Our turnkey system offers you integrated capacity planning extending from receipt of the order to commissioning.
In order to be able to act in such a holistic way, we take all economic, ecological, and functional aspects into account at every stage of development - and not just in the production of the bottles, but throughout the entire process chain. We set the standard for cost efficiency, precision, and function by effectively combining the process accuracy of our InnoPET Blomax stretch blow molder with our Bottles & Shapes program. Benefit from our comprehensive service incorporating all relevant aspects ranging from the initial idea to the point of sale.