Beer stabilization with the Innopro ECOSTAB
Beer stabilization with the Innopro ECOSTAB
PVPP beer stabilization for small, medium and large breweries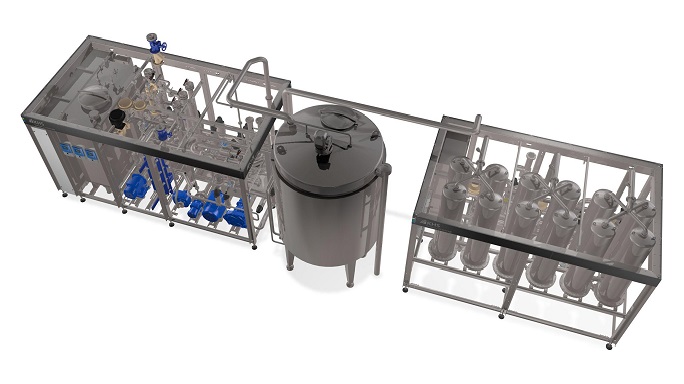 Good to know
The quality of a beer determines the level of enjoyment of this classic beverage and goes hand in hand with demands for a long shelf life. With the Innopro ECOSTAB beer stabilizer KHS offers you a convincing system which prevents beer hazing. The Innopro ECOSTAB beer stabilizer is available in three models: small and medium-sized breweries, who only want to stabilize some of the beer they produce, benefit from the manual Innopro ECOSTAB S system which is suitable for the stabilization of up to 75 hectoliters of beverage an hour. For medium-sized breweries who wish to stabilize their entire production, with an output of up to 240 hectoliters an hour the Innopro ECOSTAB B is the right choice. We recommend that large breweries who require continuous beer stabilization use the Innopro ECOSTAB C. With a capacity of 150 to 900 hectoliters per hour this is the ideal system for reliable, continuous production which ensures maximum product quality.
Well thought out
As beer is extremely sensitive, haze substances and small clots can be formed when it is stored for a lengthier period, affected by temperature or transported across long distances. The above primarily consist of compounds of protein, polyphenols and glucans. They form large agglomerates which are then visible as haze in the bottle. Consumers often misinterpret this as a sign that the beer has spoiled and is thus no longer drinkable.
Our Innopro ECOSTAB beer stabilization systems counteract this and also extend the shelf life of your beer products. In doing so, turbidity-forming polyphenols are removed from the beverage. A frequency-controlled pump doses PVPP into the product line. The beer is stabilized in small modules and the PVPP retained with the bonded tannins, resulting in short mixing phases, low media consumption and safe and reliable production. After stabilization the PVPP is regenerated in the modules, returned to the dosage tank and reused in the next stabilization cycles. In this manner the use of raw materials is improved in the long term. Typical beer characteristics such as head stability and taste are not impaired.
All systems are fully assembled by KHS, commissioned at the factory and can thus be simply integrated into your production process. They save space and can be used round the clock. They are reliable, efficient and economical. With the Innopro ECOSTAB you not only stabilize your beer but also your processes.
Convincing
Inexpensive integration and quick commissioning
Compact machine design and simple capacity adjustment
Reduced investment and operating costs
Sustainable
Environmentally friendly thanks to PVPP regeneration (70% less PVPP used and utilization levels up to five times higher than for other stabilization systems)
Low media consumption saves on resources (product, water, cleaning media)
You might also be interested in