Corpoplast
Plastics experts of the first hour: your SIG Corpoplast machines
With machinery from SIG Corpoplast you have opted for a genuine plastics expert of the first hour. This expertise, to which predecessors Heidenreich + Harbeck and blow molding specialist SIG Moldtec have also contributed, is still very much up to the minute. As the official successor to the above companies, KHS ensures all-round service, expert knowledge and original spare parts of the highest quality for the above.
The early history of Corpoplast began in 1968 when the Heidenreich + Harbeck company developed the first high-performance blow molder to produce plastic bottles (PVC) for beer. Just three years later new company owner Gildemeister built a high-performance rotary machine for the stretch blow molding of PET bottles, the capacity of which was constantly optimized in the years to follow. In 1975 Gildemeister founded the subsidiary Corpoplast for the PET machine business which in 1979 was taken over by Krupp. In 1994 a new generation of machines with an output of 1,100 bottles per station [and hour] was then launched to market. Improvements in performance and design prompted its renaming in 1998: Blomax, now in its fifth generation, has since become a synonym for top technology in PET stretch blow molding – from 2000 under the auspices of SIG (Schweizerische Industrie-Gesellschaft) Corpoplast and since 2008 from KHS Corpoplast under the umbrella of Salzgitter AG.
From 2000 onwards the high-quality blow molds for the machines were made by SIG Moldtec GmbH which was established in the same year and supplied Corpoplast with molds tailored to fit prespecified bottle drawings. The partnership between the two companies proved so cooperative and fruitful that they subsequently devised their own system of quality management. Successfully so: in the 2008 quality management audit Moldtec was awarded 112.5 points from a maximum of 120 and thus classified as an A supplier. The two companies merged with KHS in 2008.
SIG Corpoplast systems are reliable and robust, providing satisfaction long after their date of manufacture. The fact that many older machines are still in successful operation is proof of their top quality and durability. So that this remains so, you should always use original spare parts should the need arise. Only original components give you a persistently high level of line availability.
Your benefits in choosing KHS:
We have the original documentation for your machine which enables us to make a precise analysis of your equipment
We cultivate and pass on our knowledge of these machines within our company, giving us extensive expertise
Whether you have any technical queries or wish to convert or reinvest, with our many years of experience we provide consultancy on all issues from a single source

You profit from our global support program which also provides service and spare parts for every predecessor generation of machinery.
You might also be interested in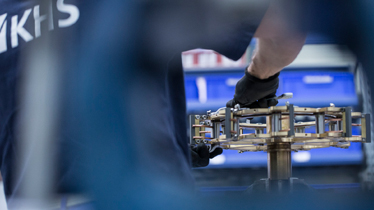 Upgrade Finder