Remote Services
Remote Services
Our intelligent remote diagnostic and remote maintenance services ensure that your lines operate even more reliably.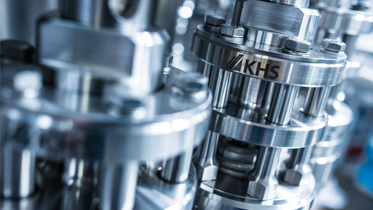 Blocked content
This YouTube video is blocked because you have not agreed to the YouTube service. By clicking the button you can change the cookie settings and play the video.
With our ReDiS remote diagnostic service and augmented reality service we can also reliably help you to remedy faults quickly and directly by remote access – without a KHS service engineer having to be on site.
We want to keep your KHS system up and running at all times – without any hitches or disruptions. This is why we have developed ReDiS. ReDiS is a highly efficient method for the remote maintenance of your machines and systems. With the help of this system, we can offer direct advice to plant operators all over the world and support our service engineers at work on site.
System fault analyses and problem correction can often be carried out via VPN (Virtual Private Network over the Internet) without the time and cost-intensive deployment of service engineers to the site. Network connections enable qualified engineers at KHS' head office to access all connected KHS components.
The advantages of ReDiS are:
Fast and precise remote machine and system diagnosis
Secure program and data transmission
Access to all incorporated controllers and to Windows-based computers
Effortless software updates and changes in system parameters
Available in two versions: ReDiS Single for single machines and ReDiS Net for complete lines
Considerable reduction in service costs as there is no need for engineers on site
Shorter downtimes
Even if we're not physically on site, we can help you to solve system problems immediately. You can rely on our remote service for system availability at the highest level.
Use our contact finder in the upper right corner of this page to contact your regional service technicians!
You might also be interested in
Boost your line availability and save time and money with our Augmented Reality Service (ARS). With the help of data goggles we can see what you see and thus quickly pinpoint and remedy faults and sources of disruption.
In the event of a disruption it is especially important that the problem is quickly found and solved. Remote diagnosis – by phone or through online access to the PLC, for example – can remedy many service incidents fast. With some more complex disruptions, however, an additional visual connection to the machine is required.
For cases like these we have developed our Augmented Reality Service (ARS). With the help of data goggles worn by the customer our service personnel can examine the fault themselves, regardless of where they happen to be, and find a solution together with you through this audiovisual link. You save time and financial resources as your production line is again fully available in a very short time indeed.
This is how it works:
Our Augmented Reality Service is a composite part of your booked HelpDesk contract.
We send you a list of data goggles recommended and tested by us. You choose a device that you purchase yourself.
Together, we link your goggles up to the KHS system. Your goggles are then ready for use should a service incident occur.
Your benefits:
Increased line availability thanks to audiovisual 24/7 support
Time and costs saved – if a fault occurs, we can help you to diagnose the problem directly through our HelpDesk
Simple handling – no elaborate software implementation necessary
You might also be interested in