Discontinuation management
Active discontinuation management at KHS GmbH
If your KHS machines contain discontinued components, for which the appropriate service can no longer be guaranteed, and a one-to-one replacement is not possible, the KHS Service Division develops technical solutions which ensure the further operation of your machines and thus your line availability. This means that not only are unplanned downtimes avoided; we also bring your machines in line with the technological state of the art. We actively inform you about the relevant component discontinuations and present you with technical alternatives in good time.
Current component discontinuation for KHS Kisters machines
Service for the Bosch Rexroth EcoDrive 03 Series drive technology used in KHS Kisters packaging machines until 2008 ends in December 2019.
As an alternative to a complete conversion of the machines to the latest drive technology, KHS offers a service extension for the EcoDrive 03 family with type PPC R02 control devices until 2025 or until 2030 for PPC R22 devices. Here, we replace all control devices, the servomotors and the cables between the controller and motor with new components.
KHS service extensions – your benefits at a glance
Machine availability ensured until 2025 or 2030
Two years' warranty on the replaced components (control devices, drives, wiring)
Shorter conversion time and fast commissioning in just three to five days
Full commissioning process lasting approx. 14 days avoided
Ensured availability of spare parts
Delivery time approx. eight weeks
Take advantage of the opportunities we offer you with our professional discontinuation management program.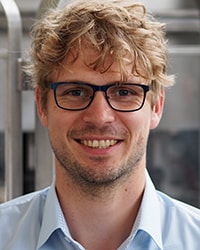 Any questions?
Your contact:
Matthias Jansen
Phone: +49 231 569 10231
E-Mail