Metec
Proven measurement and control methods with Metec machines
If you use tried-and-tested machines with Metec measurement and control techniques, you have gone for a manufacturer with a pioneering spirit. KHS is not only equally famous for its innovative ideas right from the very start; as Metec's official successor it is also the only supplier of original spare parts and a full range of services for the above.
Metec was founded in 1985 by Herbert Menke and quickly established itself as a specialist for inspection systems in the beverage and food industries. In 1986 the company performed the first empty crate inspection on the market. It remained a trailblazer in its field and in 1993, for instance, began using industrial image processing to inspect products. Metec has developed a number of measurement and control methods. These include fill level checks for beverage containers, filler management for product safety, maintenance assistance, cap, label and crate inspectors, leakage tightness control, rejection and distribution systems and quality control for foods such as milk, boiled ham or teabags.
Metec systems are reliable and robust, providing satisfaction long after their date of manufacture. The fact that many older machines are still in successful operation is proof of their top quality and durability. So that this remains so, you should always use original spare parts should the need arise. Only original components give you a persistently high level of line availability.
Your benefits in choosing KHS:
We have the original documentation for your machine which enables us to make a precise analysis of your equipment

We cultivate and pass on our knowledge of these machines within our company, giving us extensive expertise

Whether you have any technical queries or wish to convert or reinvest, with our many years of experience we provide consultancy on all issues from a single source

You profit from our global support program which also provides service and spare parts for every predecessor generation of machinery.
You might also be interested in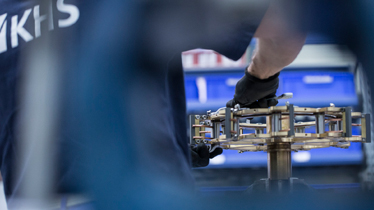 Upgrade Finder