Kisters
Intelligently packaged: existing machines by Kisters
Kisters packaging machines enjoy a long tradition. As the operator of such machinery you have relied on high quality and durability right from the start. So that this continues to be the case, official Kisters successor KHS is on hand to provide you with original spare parts, a comprehensive range of services and decades of expertise for the above.
Kisters packaging technology began storming the market in 1957. From 1968 onwards the company concentrated on engineering packaging machinery for the beverage and food industries, one example of which was the first multipacker for tray packs with and without shrink film. Just six years later Kisters built and sold the first continuous high-performance packer in its 97 series – then the most successful machine of its type. At the time it was one of the fastest on the world market. With this success under its belt and with high aspirations the company continued to optimize and develop its packaging machines under the motto of "what we make must last forever": from the first high-performance shrink and tray shrink packers in 1980 through the first mechatronically controlled packaging machine in 1987 and the first mechatronically controlled wrap-around system in 1992 to its modern modular machine program.
As a packaging machine pioneer Kisters has set standards which continue to be valid today. The fact that many older machines are still in successful operation is proof of their top quality and durability. So that this remains so, you should always use original spare parts should the need arise. Only original components give you a persistently high level of line availability.
Your benefits in choosing KHS:
We have the original documentation for your machine which enables us to make a precise analysis of your equipment

We cultivate and pass on our knowledge of these machines within our company, giving us extensive expertise

Whether you have any technical queries or wish to convert or reinvest, with our many years of experience we provide consultancy on all issues from a single source

You profit from our global support program which also provides service and spare parts for every predecessor generation of machinery.
You might also be interested in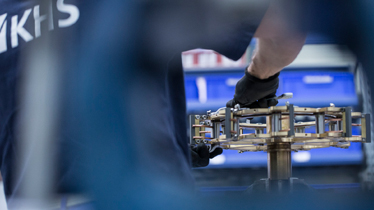 Upgrade Finder