Labeling
Ensure optimum labeling results – with the unique KHS laboratory for label testing
Greater quality for your labels: with the help of our in-house KHS test center you can quickly and professionally optimize your labeling process. At our laboratory we test the material properties of your labels and show you simple ways of mastering the challenges posed by various materials.
Regardless of which containers you wish to label or whether you use roll-fed, PSL or paper labels, hot melt or cold glue, in order to obtain a perfect result many components and aspects of the labeling process have to be taken into account. With years of expertise in labeling we offer you all-round service – from materials testing through quality assessment and the specific setting of label parameters to fast solutions to problems caused by materials.
Our offer
We test label film and paper and PSL labels: at our laboratory we simulate various events which can occur during the production process.
We assess the quality of your labels according to internal KHS specifications.
We configure your labeling parameters: our laboratory contacts one of our KHS service engineers and has your machine set up according to the relevant criteria. This is only possible if you use a KHS machine, however.
We develop new methods of measurement: in our striving for innovation we continuously work to improve our processes in order to always give you the best results.
Your benefits
You receive fast analysis and solutions to problems with materials thanks to our many years of experience and close cooperation with internal and external experts in consumables, for example.
We professionally calculate the individual characteristic values of your labels – and on this basis configure the right labeling parameters specifically for you.
You benefit from less downtime on your lines; it is therefore best to always have your labels tested before they go into use for the first time.
Our offer is aimed at all existing and prospective operators of labeling machines. Profit from our many years of experience and expertise in label testing and customer consultancy – and from a unique service on the market!
Film
Label stretching
Frictional resistances
Ink abrasion
Hot melt adhesion quality
Thickness, dimensional accuracy and electrostatic charge
Paper
Slower adhesive drying
Unwinding of labels from the container
Paper quality
Ink abrasion
Measurement of thickness, determination of the bottle weight, penetration of caustic, tensile strength and bending stiffness
PSL (pressure-sensitive labels)
Label dispensing behavior
Label web tearing
Ink abrasion
Measurement of the bending stiffness
Measurements of thickness, dimensional accuracy and electrostatic charge
Your contact:
Laboratorien / Technologiecenter
Jennifer Rumpf
Telefon: +49 231 569 -444 132
Mobil: +49 170 578 3622
E-Mail: jennifer.rumpf[at]khs.com
You might also be interested in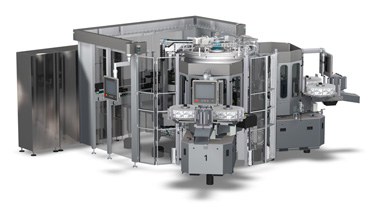 Labeling