Certifications & Audits
Certifications & Awards
The fact that our efforts to achieve sustainability are not just goodwill but tested in daily practice is evidenced by numerous certifications and awards in the form of site-specific audits that KHS has received for its locations in Germany and abroad.
Certifications
ISO 9001: Quality management
KHS has been ISO 9001 certified since 1995. This certifies compliance with the quality management standard, which is the most widespread standard nationally and internationally. The most recent certifications were received in 2019 for our sites in Dortmund, Bad Kreuznach, Worms, Hamburg, Kleve, Ahmedabad in India, Waukesha in the USA, Zinacantepec in Mexico and São Paolo in Brazil.
ISO 45001: occupational health and safety management
Our occupational health and safety management system has been certified according to BS OHSAS 18001 (the Occupational Health and Safety Assessment Series) since 2011. The certificate was last awarded to our sites in Dortmund, Bad Kreuznach, Worms, Hamburg and Kleve in 2017. In December 2019 KHS migrated from BS OHSAS 18001 to the new ISO 45001 standard that combines various occupational health and safety management issues.
SEDEX: transparency and safety according to SMETA
Since 2013 TÜV-Rheinland Cert GmbH has carried out audits in accordance with the increasingly significant SEDEX (SMETA four-pillar audit). The issue of ethical and social sustainability has also become increasingly important to many of our key customers in recent years and they also require the SEDEX certificate from their business partners. The related SEDEX (Supplier Ethical Data Exchange) online platform allows its members to provide customers and business partners with detailed information on social and ethical processes to increase transparency and safety throughout the entire supply chain. Subject areas such as working conditions, occupational health and safety, hygiene and environmental management are evaluated according to the SMETA (Sedex Members' Ethical Trade Audit) audit procedure. The most recent certifications were awarded in 2019 to all of our sites in Germany and in 2016 to all of our locations outside Germany with the exception of Suzhou in China.
ISO 50001: energy management
Optimizing and defining energy savings as management goals are two of the prerequisites for successful certification in accordance with ISO 50001. This worldwide standard defines requirements for an energy management system. KHS has been receiving this certificate since 2014. Most recently, all of our sites in Germany received the certificate in 2019, as did our production site in Ahmedabad, India.
ISO 14001: the environment
The ISO 14001 standard is the globally accepted and applied standard for environmental management systems and regulates the planning, execution, control and improvement of these systems. KHS has been receiving this certificate since 2014. The most recent certificates were issued in 2019 to all sites in Germany as well as to our location in Ahmedabad, India.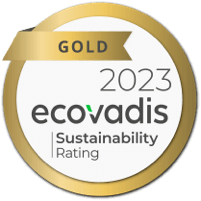 Awards / ratings
EcoVadis: gold medal for CSR
In 2023 KHS was also awarded a gold medal by EcoVadis for the very first time. The KHS Group has had itself audited since 2012. This independent rating tool focuses particularly on corporate sustainability achievements in the fields of the environment, labor law and human rights, ethics and sustainable procurement.
ECOPROFIT
We have been receiving this certificate since 2011. The modular ECOPROFIT consulting and qualification program stands for ECOlogical PROject For Integrated environmental Technology and is a cooperation project between communities and local businesses. The aim of this program is to reduce operating costs while sustainably conserving natural resources such as water and power. The last certificates were presented to the Hamburg site in 2014, Bad Kreuznach in 2013 and Dortmund in 2012.
Green power throughout Germany
KHS has been sourcing electricity from renewable sources in Germany since 2016. We again received the green power certificate for all our domestic sites in 2019.
Self-regulation in the interest of sustainability
In addition to external audits, KHS also conducts in-house audits at its sites in Germany regarding quality, occupational safety, environmental protection and energy management. Furthermore, these support our efforts to make our production process steps transparent for our customers.