Container design
Container design to your exact specifications
In our holistic container design consultancy program we accompany you throughout the entire design process: from clarification of your initial idea through development and production of the container up to and including its presentation at the point of sale. Here, sustainability is becoming increasingly relevant. We have thus developed a number of suitable environmentally-friendly systems and solutions that need very little material, make use of recycled resources and/or contain a recyclable barrier.
Are you looking for that perfect individual bottle design that stands out from the competition on the market, has consumers convinced and at the same time is gentle on the environment? With our Bottles & Shapes consultancy program we give you professional, trusted support throughout the entire container design process, drawing on over 40 years of expertise in plastic technology. Thanks to our holistic advice and solid line expertise you enjoy great process reliability from the very beginning. And it only takes a few weeks until your new dream PET bottle is ready for delivery! We take the technical parameters on your line into account right from the start. On request we also test your container with regard to specific requirements. We then explain the individual process steps to you:
From the initial idea to the finished bottle.
Good to know
Energy efficient, powerful and reliable: the InnoPET Blomax Series V stretch blow molder has an innovative heating system and processes your PET containers using considerably less energy at a specific capacity of up to 2,800 containers per hour and blow station.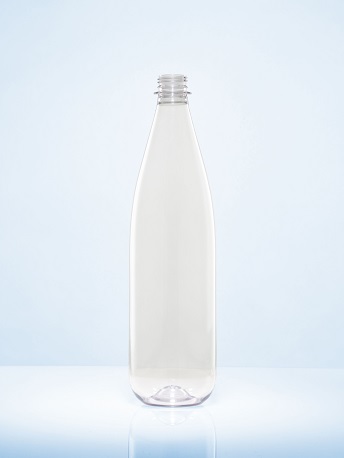 In order to protect the environment, more and more recycled material is being used in the manufacture of PET bottles. Together with our customer share we have developed the first PET bottle made of 100% recyclate and in doing so considerably cut carbon emissions in the production process. This development is an important step towards making PET containers more sustainable.
Plasmax technology is another innovation from KHS: here, a wafer-thin, recyclable coating of glass is applied to the insides of plastic bottles to give the product perfect protection against oxygen pickup or carbon dioxide loss. This means that juice bottles can also be bottle-to-bottle recycled, for instance. With our Beyond Juice concept we have designed a recyclable juice bottle made entirely of [r]PET together with Interseroh, an environmental service provider from Cologne, Germany.
We are also a pioneer in lightweighting where you benefit from considerable cost savings thanks to a minimal use of materials. We continue to develop systems and solutions that help you to identify potential savings in container, cap or label materials in combination with recyclate. Weight can also be saved on very small bottles by using our recyclable Plasmax barrier, for example. Using few raw materials by combining lightweighting and recyclate improves your ecobalance in the long term.
New ideas are constantly evolving from our cooperations with customers and industry experts, such as the one with ALPLA. Together we have designed a returnable one-liter PET bottle that weighs ten grams less than a standard container [of this size]. [r]PET can also be used here.
We would be happy to advise you – and develop the perfect container to suit your requirements together with you. In doing so, we always study the entire filling and packaging line to ensure that the newly developed or optimized container can be reliably transferred to the production process.