iflex
iflex: automatic changeovers for PET lines
With the InnoPET iflex you can automatically convert your PET line to new formats in around 30 minutes – for greater efficiency and lower operating and personnel costs even with a wide range of products. Simple product changeovers can be performed in about ten minutes.
Consumers wish for as diverse a range of products as possible in environmentally-friendly packaging. For bottlers, processing a large number of different items means frequent line changeovers during production that take up a lot of time and thus cost money and resources, resulting in a lower overall equipment efficiency (OEE). In order to boost the productivity and efficiency of your line despite increasing regulations and requirements, we have developed the modular KHS InnoPET iflex automation concept for PET lines with a broad spectrum of stock keeping units (SKUs). With it you can increase your line efficiency with fast and reliable changeovers – or even have them automated if you so wish.
Two operators can thus switch a format over from one SKU to another in approximately 30 minutes, provided there are no changes to the bottle neck, thread or label type. A simple product conversion can even be carried out in around ten minutes.1
With iflex up to 80% of all manual tasks required in conjunction with a line changeover become superfluous. All told, up to 3.5 operator hours per format changeover are then saved along the entire line. The resulting shorter downtimes boost the overall equipment efficiency by up to 20% and improve the balance between SKU variety and cost.
The KHS InnoPET iflex comes in two format changeover variants: either automated or guided, with a combination of the two also possible. With automated format changeovers the machinery is largely automated for quick format conversions and extremely efficient line operation thanks to processes being performed in parallel. The guided format changeover option prompts the operator through all required setup actions using animated step-by-step instructions displayed on the HMI. This application is especially suitable for beverage producers who carry out frequent product changeovers but do not want to automate their plant engineering.
1 These figures apply to a maximum capacity of 50,000 bottles per hour of still and carbonated beverages in containers holding between 330 and 1,500 milliliters.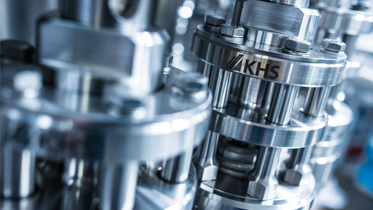 Blocked content
This YouTube video is blocked because you have not agreed to the YouTube service. By clicking the button you can change the cookie settings and play the video.