Recyclate
Bottles made of recyclate: safe, versatile and environmentally friendly
Beverage bottles made of recycled PET support the circular economy and cut carbon emissions. Switch to sustainable containers made of recyclate now! We would be happy to assist you and find the right system for your requirements.
New from old: when producing beverage packaging made of recycled materials, we repurpose used raw materials and give them a new lease of life. This not only promotes the circular economy; at the same time, you cut your carbon emissions with each item of packaging. With containers made of recyclate, the energy- and resource-intensive production and preparation stages bottles made of virgin PET undergo are no longer required. Bottles can even be made of up to 100% recyclate: we developed the very first PET bottle in Germany that consists entirely of recycled material, for instance. It is good to know that lightweighting is also possible in combination with [r]PET. We would be pleased to advise you on the production of sustainable, ultralight containers.
Convincingly cost effective
Convincingly cost effective Although recyclate is currently still more expensive than the use of virgin PET, costs for a possible CO2 tax, such as the one introduced in Germany on January 1, 2021, could be lowered in the long term by customers processing recyclate. Using recyclate instead of virgin PET reduces the amount of CO2 equivalents considerably – by over 80%, in fact.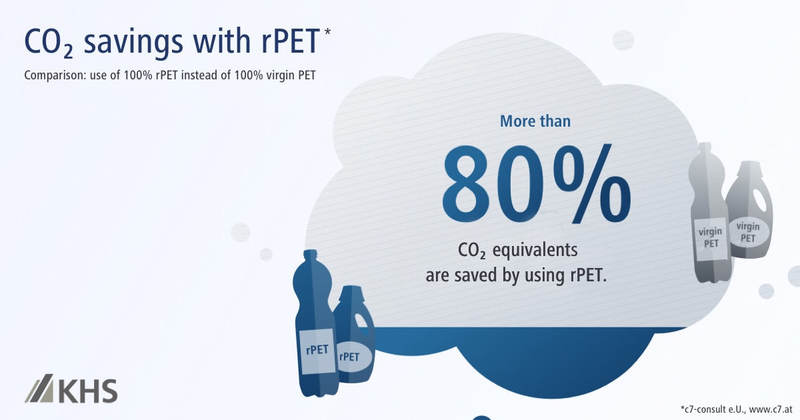 Communicate sustainability with [r]PET
Containers made of [r]PET are safe, stable and barely differ from conventional PET bottles in appearance. As consumers are increasingly taking note of the environmental friendliness of packaging, with [r]PET you can communicate to customers that your company acts sustainably. This also helps you to attract a clientele that is environmentally aware.
This has prompted us to develop a concept for a returnable one-liter milk bottle with international preform developer and manufacturer ALPLA. At 55 grams it weighs 10 grams less than standard returnable PET bottles and consists of 35% recyclate.