Innopro Corvus filter system
Innopro Corvus filter system
The multitalented cartridge filter system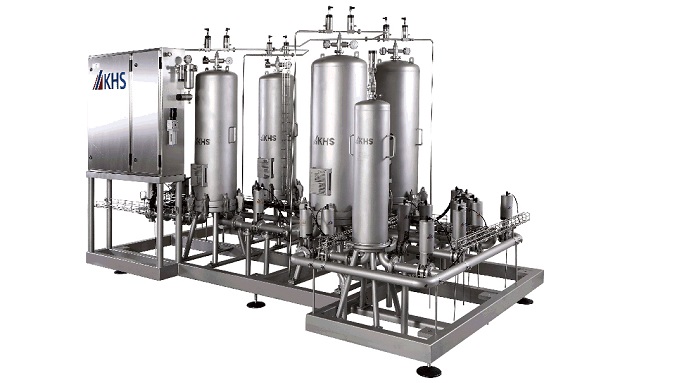 Good to know
With the Innopro Corvus, our cartridge filter system, we can offer you optimum conditions for the hygienic filtering of your beverages. Universal in its application, the Innopro Corvus is excellent for clarifying filtration, for the cold sterile filtration of beer, water, and wine, for the sterile filtration of gases, and for safety filtration immediately prior to the actual filling. Innopro Corvus filters are distinguished by their closed filters for pre- and final filtration with optimum selectivity and reliability. Used for particle filtration they can process amounts of up to 800 hectoliters an hour. When filtering water they can cope with up to 70,000 liters an hour, and during gas filtration amounts of up to 1,500 Nm³ an hour are easily possible.
Well thought out
Whether used as a sterile filter, safety filter, or prefilter, our multitalented all-rounder will give you the best safety and quality without subjecting the product to thermal load. Easy to operate, the Innopro Corvus can be combined with redundant filter systems. Thanks to the easy and fast addition and removal of extra filter cartridges, it can also be ideally tailored to suit your individual requirements.
Flexible in its design, you can run the system manually, fully automatically, or as a tandem system, i.e. for continuous filtration for increased performance. This filter system gives you an endless variety of individual configuration and expansion options.
Convincing
Can be universally applied as a sterile, safety, or prefilter
No thermal load on the product
Cleaning In Place-compatible (CIP) for the filter system rinsing and backwashing processes
Sustainable
Minimize your investment costs with simultaneous, excellent total cost of ownership (TCO) performance
Produce with efficiency thanks to an increased filter performance through parallel configuration
Profit from the low mixing phases thanks to the small filter housing
You might also be interested in