Innoclean KW crate washer
Innoclean KW crate washer
Our crate washer for reusable beverage crates - an all-round clean solution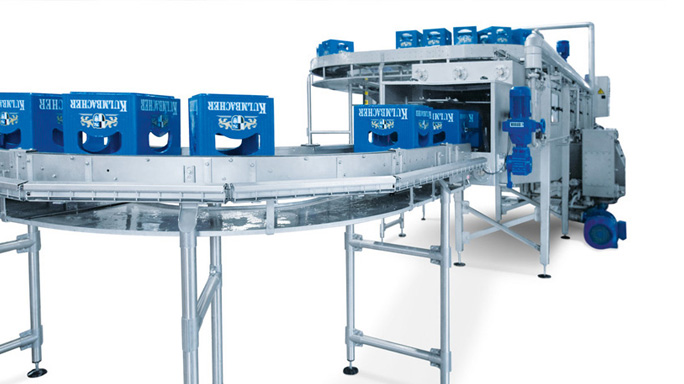 Good to know
Foreign objects and surface soiling have to be completely removed from beverage crates after use so they are in perfect condition for recrating. Our Innoclean KW crate washer actively supports you in achieving sparkling clean results in no time. Beverage crates are washed in a continuing process as they pass through the machine. Equipped with up to three different treatment zones, the crates are subjected to a succession of caustic, hot water, and fresh water sprays according to your individual requirements. The fresh water spray can be optionally deactivated automatically when the machine is stopped to conserve your resources. The Innoclean KW in space-saving machine design is able to wash up to 13,000 beverage crates per hour.
Well thought out
In order to obtain the best possible cleaning performance and crate washer handling, an automatic level control, a pressure delivery-end filter, and automatic waste discharge are optionally available to ensure that that washed off soiling remnants are removed from the machine as quickly as possible to avoid recontamination of your crates. The Innoclean KW additionally offers you a choice of 1 or 2-bath versions.
Convincing
Trouble-free format changing
Intelligent machine design prevents escaping vapors
Completely pre-wired for immediate commissioning
Sustainable
The possibility of connecting to your bottle washer saves heat and fresh water
Profit from the hygienic and clean stainless steel machine design
Several integrated straining units for efficient cleaning during on-going machine operation
Consumables
KHS MULTI GREASE 01
KHS MULTI GREASE 01 is an high performance extreme pressure lubricant. It is suitable for centralised lubrication systems.
Material numbers: 301142150102, 301142150106, 301142150108
KHS GEAR FLUID 460
KHS Gear Fluid 460 is a fully synthetic high performance gear oil with EP properties which have been specially developed for use in machinery used in the food and beverage processing and packaging industry.
Material numbers: 301142110207, 301142110209