Innokeg Contikeg keg system
Innokeg Contikeg keg system
Our high-performance keg system for cleaning and filling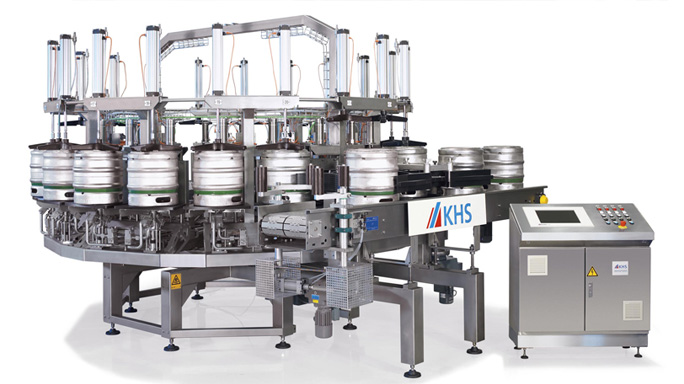 Good to know
The Innokeg Contikeg high-performance keg system is distinguished particularly by its hygienic design and continuous carousel principle which cleans and fills up to 1200 7-liter – ½ bbl (approx. 58-liter) keg/h fully automatically. The unique Contikeg concept enables the pre-washing, main washing and filling processes to be carried out on a common platform. It therefore allows you to fill a wide range of beverages from water, juices and wine to soft drinks and beer with high quality.
Well thought out
You achieve optimum cleaning results with the proven hydromechanical cleaning process by means of pulsating sprays using up to 4 different chemical cleaning media. Additional safety checks assure you of microbiological safety and cleanliness of your products. At the same time, our KHS Direct Flow Control filling system enables you to fill your kegs accurately and efficiently while caring for the product.
As an option, we offer an upgrade with our InfoKeg Management and Information System. It links your whole product range fully automatically to a central database which you can conveniently access via our VISUKEG visualization program. It can easily be incorporated retrospectively into any existing line and ensures transparency of your whole production process.
Convincing
Unique high-performance keg system with an output of up to 1500 kegs/h
Maximum product safety thanks to efficient fault and rejection logistics
40 years experience and continuous development guarantee optimum process cycles for refillable and non-refillable containers
Sustainable
Save up to 80% water by using intelligent water cascading systems and up to 40% CO2 thanks to the patented KHS Direct Flow Control system
Reduce your maintenance costs as a result of up to 60% reduction in the coupling of fittings and treatment heads
Produce efficiently and cost effectively thanks to the optimally matched use of personnel, energy and space