Innopro KZE flash pasteurizer
Innopro KZE flash pasteurizer
Gentle pasteurization for longer beverage shelf lives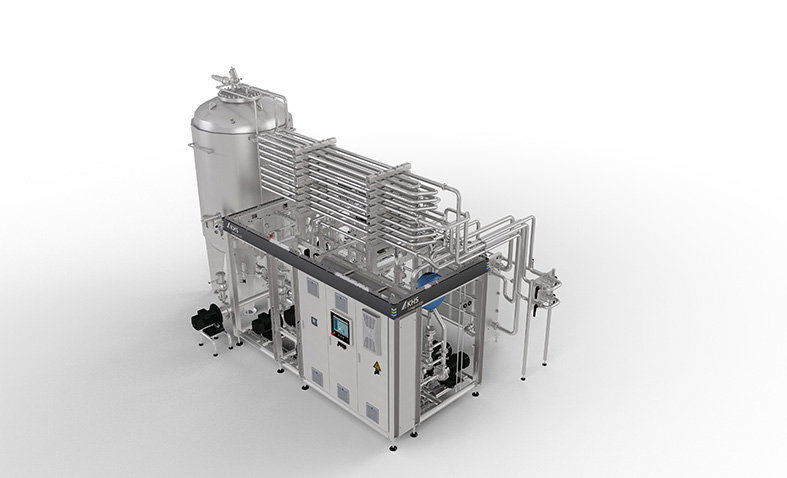 Good to know
Our Innopro KZE C flash pasteurizer gives you continuous pasteurization that extends the shelf lives of your beverages. At a heat retention period adapted to suit your particular beverage it reliably kills microorganisms and inactivates enzymes in your products. Hot water is circulated according to capacity to warm the product and in the heating section your beverage is heated in a counterflow to pasteurization temperature. Using a plate heat exchanger the Innopro KZE C reliably and safely pasteurizes up to 60,000 liters an hour of beer, wheat beer, clear, low-fiber juice and still and carbonated, fiber-free beverages. Highly viscous products with pulp and fibers are heated using adapted plate heat exchangers in tube form, with monotube or multitube systems used depending on efficiency and flexibility requirements.
Well thought out
Following flash pasteurization your microbiologically impeccable products are cooled and transferred to the filler. This process is continuous thanks to the buffer tank installed between the heater and the filler. Temperature or PU control ensures constant, gentle pasteurization of your product. Level-controlled power regulation and modern product tracking reduce the number of startups and shutdowns, lower the number of mixing phases and reduce media consumption. The result is ensured, excellent product quality and constant production.
Starting with its basic design the flash pasteurizer ranges from the hygienic model for alcoholic beverages through the variant for ultraclean requirements to the aseptic, recontamination-free turnkey system. We can also offer you many options which adapt the Innopro KZE C to suit your individual requirements.
Convincing
Flexibility provided by a switchable PU and temperature control for a safe and constant product quality and gentle pasteurization
Buffer tank for sustained, constant production
Electronic data acquisition for the archiving of all process-relevant parameters
Sustainable
Profit from flexible incorporation of the flash pasteurizer into existing line concepts and new systems to use external sources of heat
Minimize your beer loss with advanced product tracking throughout the entire pasteurization process
Optimize your energy consumption with product preheating for hot filling