Innokeg keg turner keg accessory
Innokeg keg turner keg accessory
Flexible turning of widely differing kegs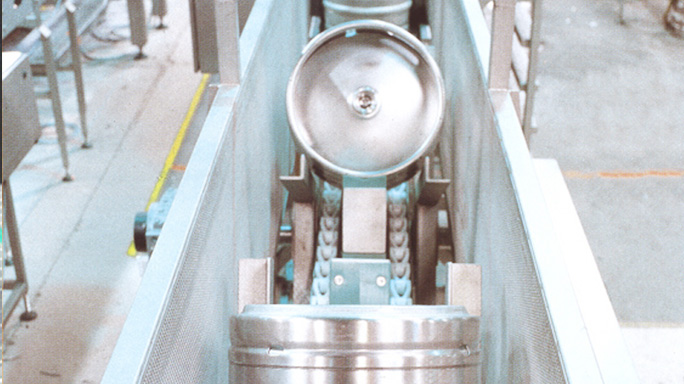 Good to know
Our practical Innokeg keg turner takes the hassle out of it. These machines are perfectly suited to the widely differing requirements of a keg system. They are fully usable for every capacity range for both full and empty containers and process up to 1500 7-liter – ½ bbl (approx. 58-liter) kegs/h. We provide you with a turning system which is optimally matched to your system capacity. Choose one of our three robust systems for optimum turning through 180°.
The multi-step turner gives outstanding service for semi-automatic and fully automatic keg systems in the low and medium capacity range up to 200 kegs/h. It is used for turning through 180° and at the same time raising or lowering by 750 mm.
The 180° turner has a capacity of up to 600 kegs/h. Here, the keg is fed via a special conveyor into the double-sided fork guide of the turning device and is turned through 180° at the same height.
The double-cross turner gives you maximum capacities of up to 1500 kegs/h. Kegs are rotated through 90° in two turning hubs at the same height.
Well thought out
All the Innokeg Keg turners described are accessible on all sides, compact and therefore maintenance-friendly. We have the right turner for all your tasks.
Convincing
Three different turning systems for optimum coverage of all capacity ranges
No need to change format parts
Gentle handling of all kegs
Sustainable
Rely on maximum stability thanks to the extremely robust design
Choose the same type of machine for processing empty and full containers and consequently save on spare-parts holding
Reduce electricity consumption by using energy-efficient motors
You might also be interested in