Innoline PTR pallet conveyor
Innoline PTR pallet conveyor
It all stacks up - our reliable pallet conveyor for non-reusable and reusable pallets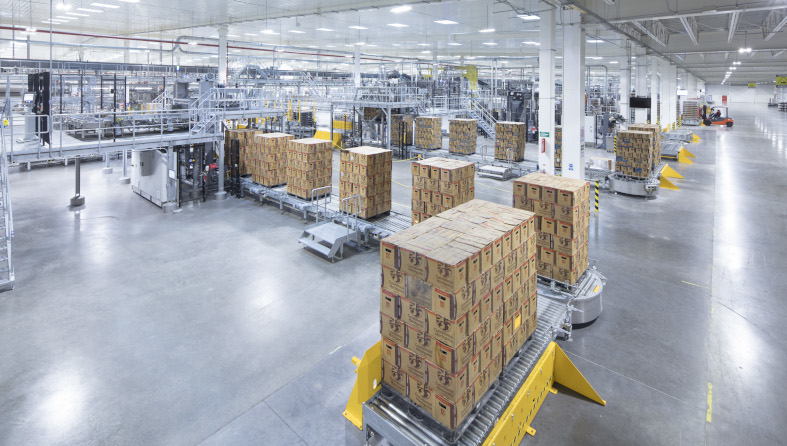 Good to know
The Innoline PTR pallet conveyor provides fully automatic, safe and reliable support in transporting and monitoring your pallets and placing them in magazines. With our system, you can feed in and discharge almost any kind of pallet, including non-reusable or reusable pallets made of wood, plastic or metal and dollies. Depending on the nature of your pallets, we have a choice of roller conveyors, chain conveyors or mat chain conveyors available. Thanks to the modular building-block system, your line can be designed to exactly fit the space available and to provide your required throughput capacity. Different checking options from individual checks to the complex pallet checking station round off this comprehensive range.
Well thought out
Every version of our pallet conveyor has a torsionally rigid, robust steel structure which ensures a long life and maximum system availability. Practical functions such as soft-starters and frequency controllers ensure gentle acceleration and deceleration and therefore particularly gentle pallet handling. As an option, our pallet system can be fitted with the KHS AIS information system for 100% transparency. AIS ensures that you are kept permanently informed of the current state of the production system, and reliably analyzes the gathered operating data and fault data on your behalf. In this way, you can recognize additional system potential in no time at all.
Convincing
Long life thanks to torsionally rigid, robust, galvanized steel structure
Numerous manipulation elements for various additional tasks
Small chain wheel diameters and duplex chains ensure reliable and smooth transition of the pallets from segment to segment
Sustainable
Convey efficiently with the help of the product flow tracking system
Benefit from low energy consumption thanks to variable centralized or decentralized drive concepts with high-efficiency drives
Achieve the highest possible efficiency thanks to the simulation-aided design of the conveyor system
Consumables
KHS HEAVY DUTY GREASE 03
KHS Heavy Duty Grease 03 is a very high performance heavy-duty lubricant, specially developed for the grease lubrication of machinery in the food and beverage processing and packaging industry.
Material numbers: 301142150306
KHS MULTI GREASE 01
KHS MULTI GREASE 01 is an high performance extreme pressure lubricant. It is suitable for centralised lubrication systems.
Material numbers: 301142150102, 301142150106, 301142150108
KHS GEAR FLUID 220
KHS Gear Fluid 220 is a fully synthetic high performance gear oil with EP properties.
Material numbers: 301142110507
KHS GEAR FLUID 460
KHS Gear Fluid 460 is a fully synthetic high performance gear oil with EP properties which have been specially developed for use in machinery used in the food and beverage processing and packaging industry.
Material numbers: 301142110207, 301142110209