Innopack RS2 packer and unpacker
Innopack RS2 packer and unpacker
The all-rounder that processes all returnable and non-returnable containers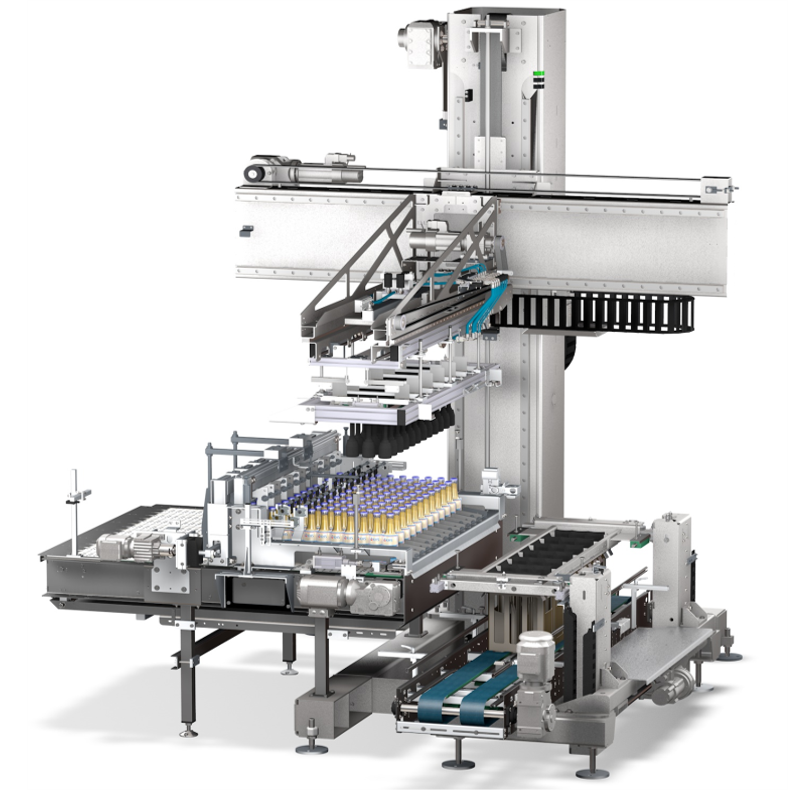 Good to know
The Innopack RS2 is a single-column machine that has been chiefly designed for the medium capacity range. It can pack and unpack glass and [r]PET containers and beverage cans. The machine can be easily integrated into your existing plant equipment. High- and low-wall crates can be used as secondary packaging, allowing you to remain flexible when it comes to your choice of packaging. The Innopal RS2 for palletizing and depalletizing is based on the same base machine, thus simplifying spare part stockkeeping and operation of your packaging line.
Well thought out
You benefit from high machine availability, plus robustness and durability in ongoing operation. Integrated fall protection for all positions also ensures consistently safe operator prompting.
The Innopack RS2 is available in two variants: Basic and Basic Compact. With their short delivery times, these two standardized base machines are convincing and can be perfectly integrated into your line thanks to their low space requirement. Format changeovers are no problem for this machine: we would be happy to also equip your Innopack RS2 with optional automatic format changeovers on request. Even on the standard version, semiautomatic format changeovers can be mastered quickly and easily with just a few manual adjustments.
Convincing
Extremely multifunctional: packing, unpacking, palletizing and depalletizing with one machine type (in combination with the Innopal RS2)
Simple operation on the HMI operator panel and installation wall with extensive media access
Space-saving, compact single-column machine
Sustainable
Precise processing with low energy consumption thanks to state-of-the-art components
Process your products flexibly and reliably with semi-automatic or optional fully-automatic format changeovers
Modular design and high level of adaptability for your extremely individual packaging requirements