Innopal HR handling robots
Innopal HR handling robots
Useful accessories for accurate palletizing and depalletizing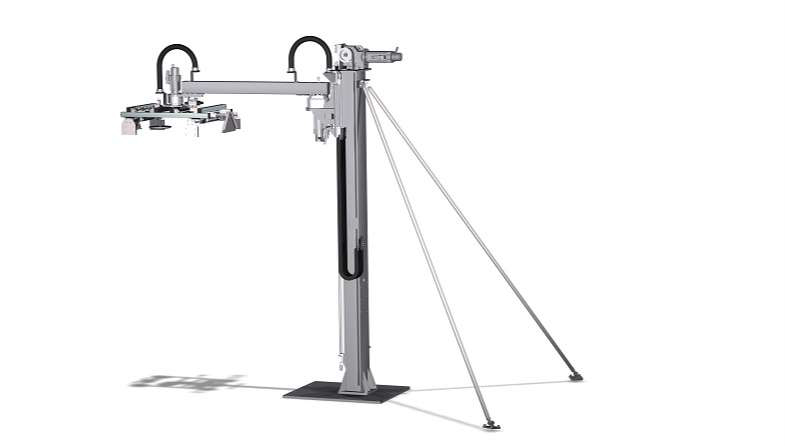 Good to know
The Innopal HR handling robot is the ideal accessory for palletizing and depalletizing soft packaging. The additional machine can be used in many different ways. Whether for moving intermediate layers, inverted trays and inverted tray bases or cover frames and pallets - the Innopal HR provides full support even in the high-performance range. The emphasis with this machine is on flexibility. You can therefore set it up to suit your every need. Fitted with two additional pallet gripper arms, you can also process pallets without any difficulty.
Well thought out
The handling robot carries out its tasks safely and precisely thanks to the pneumatic suction cups for intermediate layers, inverted trays, inverted tray bases and slip sheets. Other highlights of this robot are the fast and reliable lifting of wooden, plastic and metal cover frames and the sorted and positionally accurate placement of these layers in appropriate magazines in the pre-programmed palletizing cycle. You simply must get to grips with this machine.
Convincing
Consistent modular design guarantees flexible changing of handling tasks
Cost reducing thanks to up to 98% machine availability
Sustainable
The latest servo technology, flat belts and generously dimensioned components minimize your maintenance effort
Consumables
KHS GEAR FLUID 460
KHS Gear Fluid 460 is a fully synthetic high performance gear oil with EP properties which have been specially developed for use in machinery used in the food and beverage processing and packaging industry.
Material numbers: 301142110207, 301142110209