Innopal PS pallet stacker/destacker
Innopal PS pallet stacker/destacker
Versatile system for stacking/destacking pallet blocks with separator pallets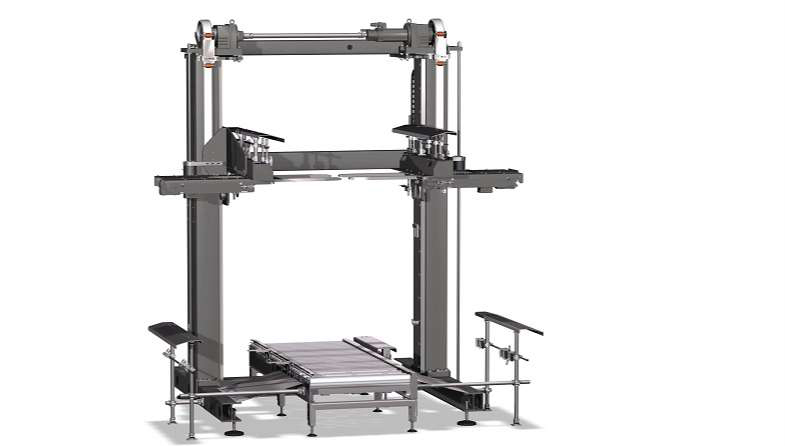 Good to know
The reliable and highly versatile Innopal PS two-column pallet stacker helps you to automatically stack and destack pallet blocks which have separator pallets. The machine is designed for the low-end to medium performance range. It stacks and destacks two-tier pallets containing filled product or empties as well as pallets holding consumables. The PS is extremely versatile, giving you maximum flexibility to introduce new stacking and destacking operations. The maximum throughput capacity is 200 single pallets per hour.
Well thought out
The Innopal PS-E uses a light barrier to scan the pallet layers, ensuring maximum operational reliability even when block heights vary. Also before the pallet leaves the destacker, it is automatically positioned so that it is perfectly aligned with the pallet conveyor. The user-friendly program select function on the Innopal PS-S lets you set the number of layers. The machines feature a rugged design for long service life and high availability. Maintenance requirements are minimal, and the systems are also extremely compact.
Convincing
Fully modular design enhances versatility and reduces the part count
Up to 98% machine availability translates to lower operating costs
Precision stacking/destacking results ensure high operational reliability
Sustainable
Toothed belts and generous part design margins reduce your maintenance effort to a minimum
Balancing with counterweights cuts your energy consumption
Pickup catches with electric motor drive help you conserve resources
Consumables
KHS MULTI GREASE 01
KHS MULTI GREASE 01 is an high performance extreme pressure lubricant. It is suitable for centralised lubrication systems.
Material numbers: 301142150102, 301142150106, 301142150108
KHS GEAR FLUID 460
KHS Gear Fluid 460 is a fully synthetic high performance gear oil with EP properties which have been specially developed for use in machinery used in the food and beverage processing and packaging industry.
Material numbers: 301142110207, 301142110209