Innopas WICG compact heater
Innopas WICG compact heater
Reliable heating to avoid condensation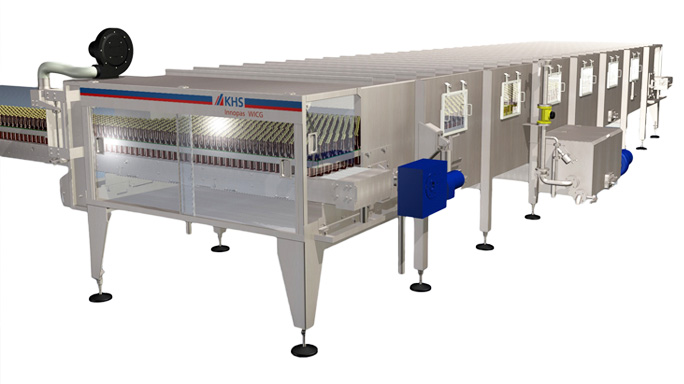 Good to know
Our compact Innopas WICG heater offers you a reliable means of avoiding condensation on the cans, glass, and PET containers of cold-filled beverages to avoid problems with subsequent labeling or film wrapping. The Innopas WICG's capability of heating containers perfectly at up to 150,000 containers per hour is impressive. The various levels of automation available enable you to adapt the compact heater to meet your individual requirements.
Well thought out
The Innopas WICG simplifies considerably the subsequent labeling and film wrapping of cold-filled beverages. The containers are heated in the compact tunnel heater to at least the ambient or a slightly higher temperature to eliminate any condensation that would make subsequent labeling and film wrapping problematic. The practical design and short installation in addition to a highly efficient spray system with full-cone clamping nozzles make this compact heater compelling.
Convincing
Easiest possible machine operating
Housing made entirely of stainless steel
Practical compact design for short installation and perfect accessibility
Sustainable
You can rely on hygienic design
Protect the environment through a possible flexible integration of various sources of heat
Consumables
KHS MULTI GREASE 01
KHS MULTI GREASE 01 is an high performance extreme pressure lubricant. It is suitable for centralised lubrication systems.
Material numbers: 301142150102, 301142150106, 301142150108
KHS GEAR FLUID 460
KHS Gear Fluid 460 is a fully synthetic high performance gear oil with EP properties which have been specially developed for use in machinery used in the food and beverage processing and packaging industry.
Material numbers: 301142110207, 301142110209