Innopro BoxFlash flash pasteurizer
Innopro BoxFlash flash pasteurizer
Gentle pasteurization for longer shelf lives of your specialty beers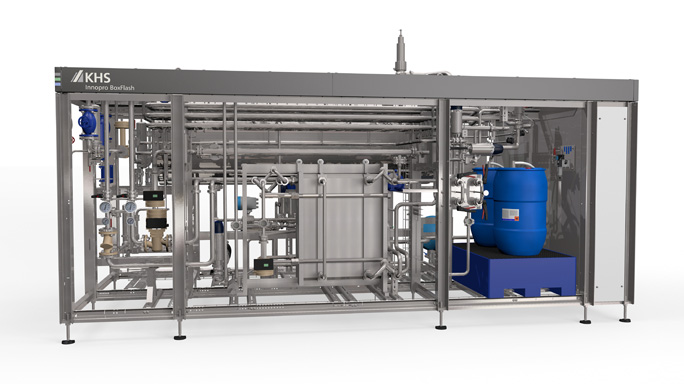 Good to know
With our fully automatic Innopro BoxFlash flash pasteurizer you can extend the shelf life of your beverages through continuous, gentle pasteurization. The Innopro BoxFlash is primarily tailored to meet the requirements of SMEs – such as craft brewers – and can also be very easily integrated into existing lines. Thanks to its compact box design the flash pasteurizer has an extremely small footprint, reliably and constantly pasteurizing up to 45 hectoliters of beverage per hour at minimum energy consumption.
The optional OnBoard CIP module enables CIP media to be both provided and also prepared on the BoxFlash frame. The optimized system design, resulting in a very low construction volume, permits fast and efficient CIP for the BoxFlash and CombiKeg filler simultaneously – also without the external CIP system which is otherwise required.
Well thought out
The compact flash pasteurizer in container format can be shipped as a single unit, enabling minimum system volumes. Product loss during startup is thus reduced and the Innopro BoxFlash commissioned quickly.
Convincing
Very little space required thanks to the compact box design
Quick and easy integration into existing lines thanks to the plug-and-produce principle
Number of internal and external interfaces reduced to a minimum
System is separate from the rest of the production line
Sustainable
Very low system volumes thanks to the compact design
Optimized system design enables minimized media consumption and extremely short mixing phases
Recipe-controlled gas pressure regulation with fully-automatic capacity control cuts CO2 consumption down to a minimum