SmartCan filler/seamer block by KHS/Ferrum
SmartCan filler/seamer block by KHS/Ferrum
Hygienic block system for high outputs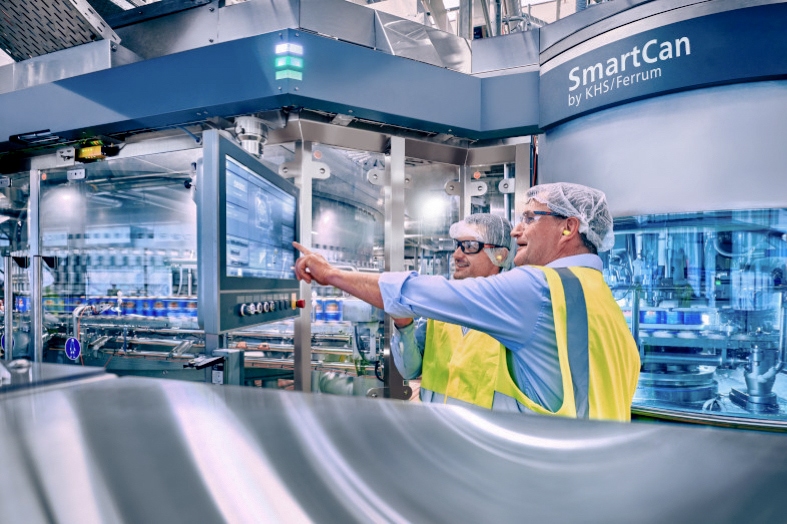 Good to know
Great flexibility, a high standard of hygiene and plenty of future viability all rolled into one: our SmartCan filler/seamer block by KHS/Ferrum combines numerous advantages in a single machine. The filler, seamer and housing are perfectly attuned to one another. The computer-controlled can filler and seamer can fill beer and carbonated soft drinks, juices, still beverages and even coffee and tea quickly and efficiently. The servodrive technology enables automated positioning with a highly accurate degree of reproducibility coupled with a low amount of wear. The can filler/seamer block can process up to 135,000 cans per hour with a diameter of 50 to 73 millimeters and a height of 88 to 200 millimeters.
Well thought out
The high-performance SmartCan filling block by KHS/Ferrum sets new standards in relation to hygiene and product safety. The can seamer and can transfer unit have been developed in accordance with the highest hygiene requirements. This improves access, making the block system very easy to clean. The SmartCan by KHS/Ferrum operates according to the volumetric filling principle: this provides maximum filling accuracy and freedom in the choice of can to be processed. Furthermore, all processes are automated: each process step is documented and can be reproduced at any time. In its first available size the can seamer comes with 14 seaming stations and a capacity of 108,000 cans per hour.
Further reading
Come together
Our high-tech can filler and the powerful Ferrum seamer grow even closer in their combined filler/seamer block.
Learn more
Convincing
High machine availability thanks to fast format and product changeovers
Future-proof through the consistent use of servodrive technology, modular software and hardware and intelligent interfaces
Gentle processing of lightweight beverage cans
Sustainable
Reduced CO2 consumption with low oxygen pickup
Lower energy consumption thanks to warm filling at up to 20°C as opposed to the usual recooling
Hygienic design for simple cleaning operations that save on resources
Good to know: with our platform system you can add modules to your machinery to allow you to flexibly process further beverage types or container sizes in the future. This means that you are all set up to meet constantly changing future market challenges today. Invest in the long term and benefit from efficient maintenance and an optimum supply of spare parts – for increased line availability.