Innopack Kisters CSM handle applicator
Innopack Kisters CSM handle applicator
Perfect positioning of safe and sturdy carrying handles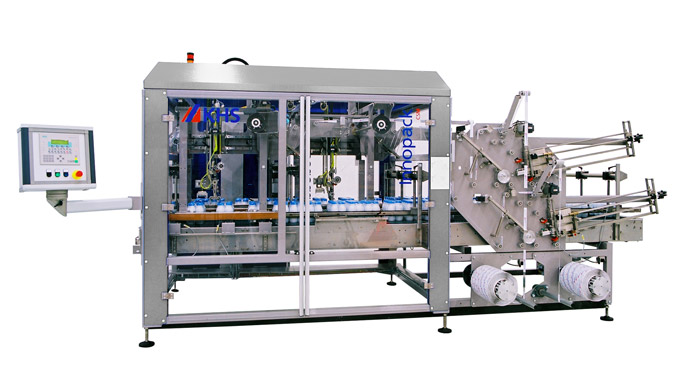 Good to know
Our Innopack Kisters CSM handle applicator provides ultimate carrying convenience for case and shrink-wrapped packs. This modular packing machine can be optimally used to perfectly position carrying handles in both the medium and high capacity range of up to 12,600 packs per hour. The enormous range of products the machine can process includes shrinkpacks containing glass or PET bottles, jars, cans, and drink cartons in addition to cases and canisters. Especially practical the standard pre-laminated handles can simultaneously be used for advertising purposes or provide additional space for items such as barcodes. The Innopack Kisters CSM is also able to effortlessly process soft labels for those of your customers who produce premium products.
Well thought out
The continuous method of operation of this product range perfectly adapted to all types of product provides top performance coupled with gentle pack handling. The latest in servo technology and low-maintenance toothed belt drives are compelling features of the Innopack Kisters CSM. The side conveying belts used to control the positions of the packs in relation to the application heads additionally increase the stability of lightweight packs.
Convincing
Freely programmable handle lengths for optimum carrying convenience
Ready-made or optional in-machine handle laminating ensure a high margin of flexibility
Starting the application cycle by product contact decisively increases reliability
Sustainable
Invest in the future with a modular system that can be expanded at any time
Profit from the reliable operation provided by ultra-modern servo technology
Consumables
KHS GEAR FLUID 460
KHS Gear Fluid 460 is a fully synthetic high performance gear oil with EP properties which have been specially developed for use in machinery used in the food and beverage processing and packaging industry.
Material numbers: 301142110207, 301142110209