Innopal AS N depalletizer
Innopal AS N depalletizer
Twin-column depalletizer with accurate level compensation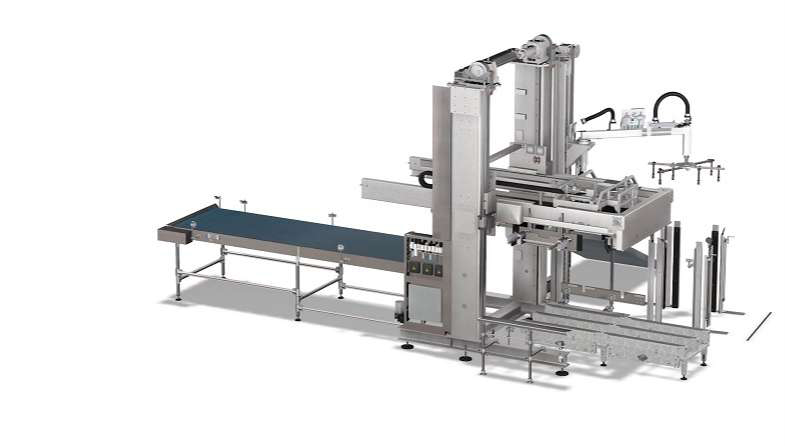 Good to know
Our whole Innopal product range represents precision palletizing of beverage containers to suit your requirements. The Innopal AS N will help you to process new glass, plastic and metal containers reliably and smoothly. The two-column machine is distinguished particularly by its flexibility when changing products. Thanks to its motor-driven, adjustable pushoff frame, the depalletizer can be individually adapted to suit your needs. With a capacity of up to 240 depalletized layers/h, the Innopal AS N is a powerful aid when preparing your products for processing.
Well thought out
The optionally available fully automatic layer changeover enables you to change and reconfigure products at the press of a button during production. You also benefit from flexibility when planning your palletizing tasks thanks to the accurate level compensation. You will also reduce your spare parts costs in the long term as a result of the reduced number of parts.
Convincing
Consistent modular design guarantees flexible changing of depalletizing tasks
High system availability thanks to optional fully automatic layer changeover
Sustainable
Benefit from low-noise operation thanks to the plastic coating of surfaces which come into contact with the product
Minimize maintenance effort by using the latest servo technology, cog belts and generously dimensioned components
Images & videos
Consumables
KHS MULTI GREASE 01
KHS MULTI GREASE 01 is an high performance extreme pressure lubricant. It is suitable for centralised lubrication systems.
Material numbers: 301142150102, 301142150106, 301142150108
KHS GEAR FLUID 460
KHS Gear Fluid 460 is a fully synthetic high performance gear oil with EP properties which have been specially developed for use in machinery used in the food and beverage processing and packaging industry.
Material numbers: 301142110207, 301142110209