Innopal PB N palletizer
Innopal PB N palletizer
Flexible, twin-column palletizer with level compensation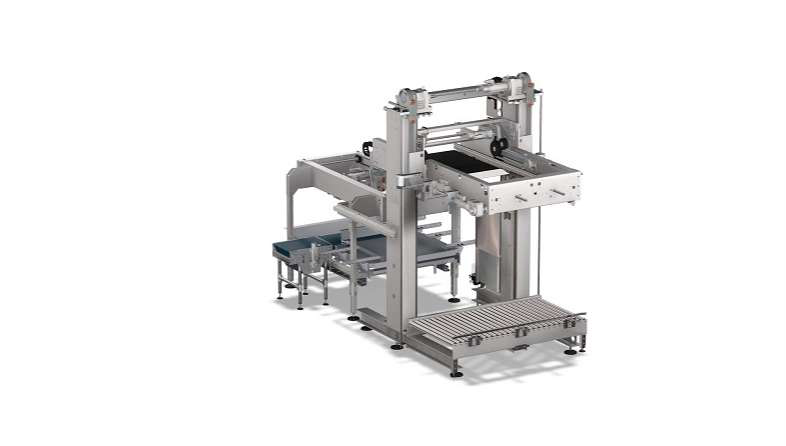 Good to know
Highly flexible and with a twin-column design, the Innopal PB N pallet loader helps you to process your non-returnable packaging such as cartons, trays, shrink packs, individual packets and bags as well as returnable packaging such as low-wall plastic crates, quickly and precisely. The Innopal PB N is your first choice for loading tasks in the beverage, food and non-food industries. The palletizer can be individually adapted to suit your requirements thanks to its level compensation feature. In addition, the compatible design of the layer preparation system also helps in the optimized processing of your products. The twin-column palletizer achieves a throughput of up to 385 layers/h.
Well thought out
You have a choice of different pallet conveyor systems. Whether you prefer the single or multi-lane variants or robot grouping, an individual arrangement to suit your requirements can easily be provided at any time.
Our palletizer can optionally be equipped with a robot-version pallet liner inserter or a pallet liner magazine with a manual or automatic liner supply to guarantee you ideal conditions for your beverage filling.
Boost the efficiency of your PET filling and packaging line with our KHS InnoPET iflex modular automation concept with fast and reliable changeovers.
Convincing
Trouble-free processing of non-returnable and returnable packaging in different capacity ranges
High system availability thanks to optional fully automatic layer changeover
Cost reducing thanks to up to 98% machine availability
Sustainable
Conserve resources with the intelligent energy management system for energy recovery
Reduce your spare parts requirement thanks to the use of a robust pushover plate and fewer moving parts
Minimize maintenance effort by using the latest servo technology, cog belts and generously dimensioned components
Consumables
KHS MULTI GREASE 01
KHS MULTI GREASE 01 is an high performance extreme pressure lubricant. It is suitable for centralised lubrication systems.
Material numbers: 301142150102, 301142150106, 301142150108
KHS GEAR FLUID 460
KHS Gear Fluid 460 is a fully synthetic high performance gear oil with EP properties which have been specially developed for use in machinery used in the food and beverage processing and packaging industry.
Material numbers: 301142110207, 301142110209
KHS GEAR FLUID PG 220
KHS Gear Fluid PG 220 is a high performance, anti-wear gear oil for the lubrication of worm gears, highly loaded gears and applications where high resistance to micro-pitting is needed, for the use in food and beverage processing equipment.
Material numbers: 301142111007