Innopal PB NF non-returnables palletizer
Innopal PB NF non-returnables palletizer
High-performance, gantry-type palletizing system with level compensation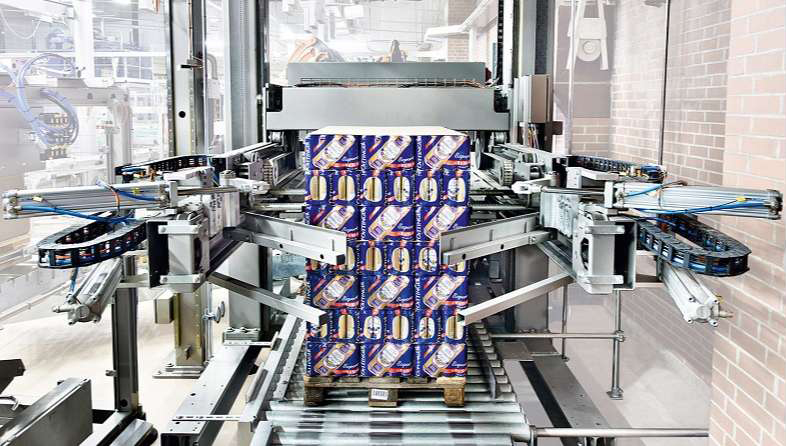 Good to know
With our new Innopal PB NF palletizing system we present you with cutting-edge, high-performance technology for the palletizing of all kinds of pack. Our palletizer for non-returnables with level compensation processes up to 500 layers per hour – at a low-level pack infeed. Compared to previous palletizers with a low feed, our fast machine boosts performance by up to 30%. The Innopal PB NF is equally suitable for use in the beverage industry and in the food and non-food sectors. Whether you want your cans, plastic containers or glass bottles packed in film, cartons or trays, the Innopal PB NF gives you maximum flexibility. Thanks to the utilization of a pusher plate, if required returnable packs can also be processed, such as high and low-wall plastic crates.
Well thought out
As the machine is compact in design and has very few movable parts, the wear and maintenance effort for the Innopal PB NF are considerably reduced. The 3D surface structure of the pusher plate design ensures extremely gentle palletizing of all kinds of pack. The cross conveyor on the machine also has a barrier which automatically opens as soon as a pallet load is finished. This allows a new load to be picked up while the pallet is being changed, thus avoiding wait times and giving you a much higher palletizing performance. The Innopal PB1NF also has the same control concept as all of the other components in our palletizing system. This avoids interface problems right from the start. With our new high-performance palletizer you can rely on proven KHS quality and are perfectly equipped for the future.
Boost the efficiency of your PET filling and packaging line with our KHS InnoPET iflex modular automation concept with fast and reliable changeovers.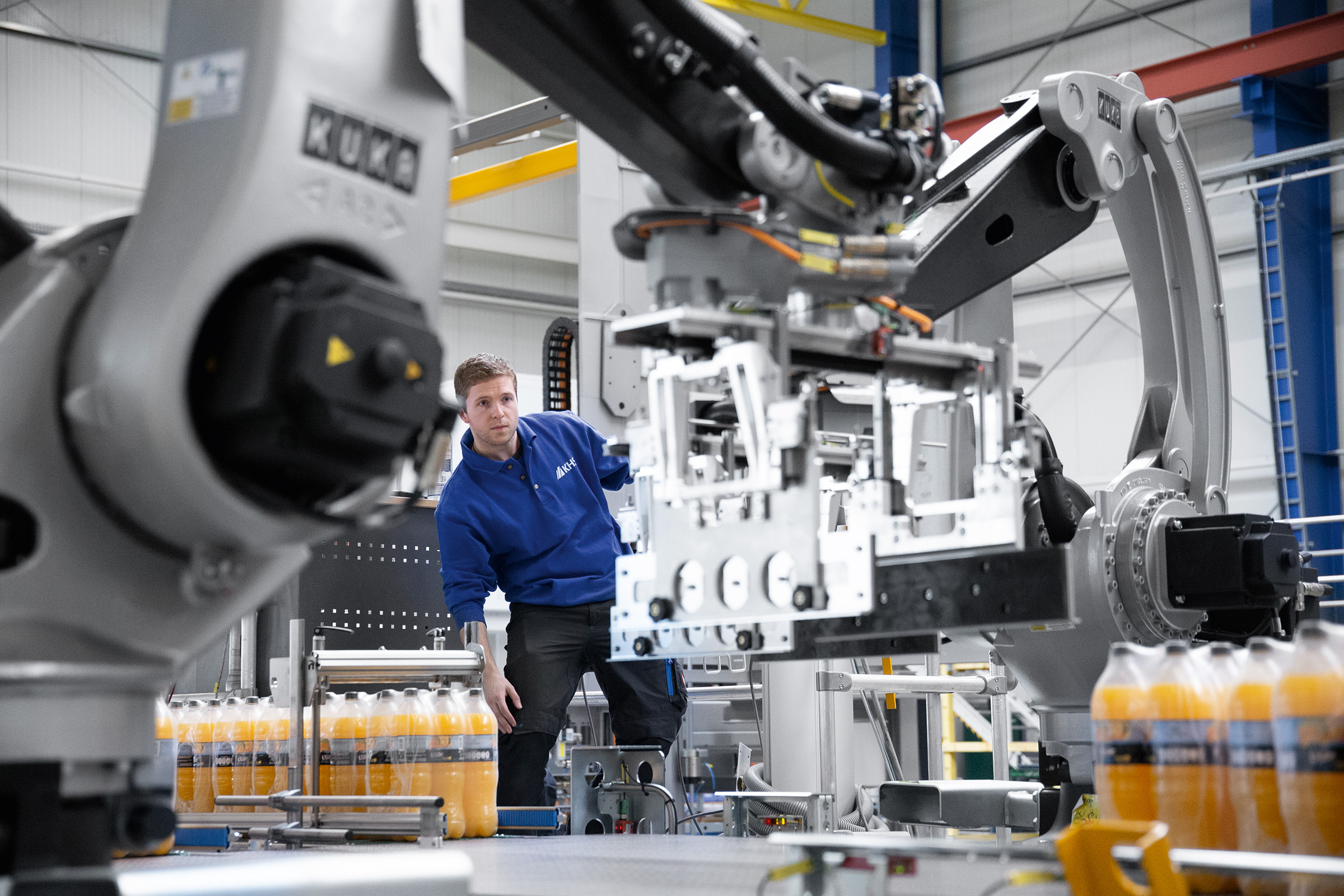 Further reading
Colleague robot
KHS high-tech systems master tasks such as sorting, distribution, depalletizing, palletizing and stacking efficiently, flexibly and economically: a summary.
Learn more
Convincing
Top palletizing performance with a low-level pack feed
High availability through automatic format changeovers and pallet liner supply
Maximum flexibility as all kinds of different packs can be processed
Sustainable
State-of-the-art drive technology significantly reduces wear and maintenance effort
Save money in the long term thanks to the machine's long life cycle and lower servicing costs
Profit from the improved ease of operation of our new palletizing concept
Images & videos
Consumables
KHS MULTI GREASE 01
KHS MULTI GREASE 01 is an high performance extreme pressure lubricant. It is suitable for centralised lubrication systems.
Material numbers: 301142150102, 301142150106, 301142150108
KHS GEAR FLUID 460
KHS Gear Fluid 460 is a fully synthetic high performance gear oil with EP properties which have been specially developed for use in machinery used in the food and beverage processing and packaging industry.
Material numbers: 301142110207, 301142110209