Innopal RC
Innopal RC
High-performance processing with cutting-edge robot technology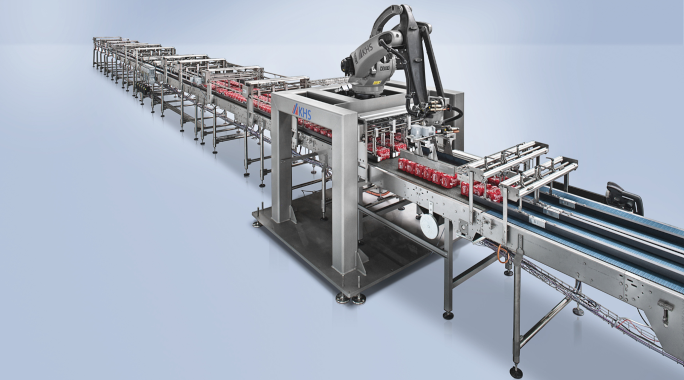 Good to know
We have the latest robot technology for your company. With our Innopal RC robot combiner, for the first time we are able to offer you a uniform robot concept for the distribution and bringing together of packs. With the help of innovative KHS engineering all types of pack are distributed between or brought together for two packaging machines for further processing by an articulated, positive-fit robot.
Well thought out
The low-maintenance system will revolutionize your pack conveying. Profit from flexible, fully automatic processes. You can of course rely on proven KHS quality here; our Innopal RC robot combiner gives you maximum functional safety and reliability thanks to its positive method of operation throughout the entire process.
Utilize our experience for your success; we have been using robotic systems since 1996. The many advantages of this technology include easy operation, fully automatic product changeovers, exact reproducibility and sustainability. Using robots with their gentle mode of operation reduces the consumption of both packaging materials and energy, for example.
Convincing
Flexible, future-oriented robot technology
Space-saving, high-performance distribution and combining system
High degree of operational reliability
Sustainable
Low-maintenance technology allows smooth production processes
The low-wear robot combiner saves time and money in the long term
The modern system saves space and makes your processing sequences easier
Consumables
KHS MULTI GREASE 01
KHS MULTI GREASE 01 is an high performance extreme pressure lubricant. It is suitable for centralised lubrication systems.
Material numbers: 301142150102, 301142150106, 301142150108
KHS GEAR FLUID PG 220
KHS Gear Fluid PG 220 is a high performance, anti-wear gear oil for the lubrication of worm gears, highly loaded gears and applications where high resistance to micro-pitting is needed, for the use in food and beverage processing equipment.
Material numbers: 301142111007
KHS GEAR FLUID 460
KHS Gear Fluid 460 is a fully synthetic high performance gear oil with EP properties which have been specially developed for use in machinery used in the food and beverage processing and packaging industry.
Material numbers: 301142110207, 301142110209