KHS Innoket Neo RF labeling station
KHS Innoket Neo RF labeling station
For simple and efficient roll-fed labeling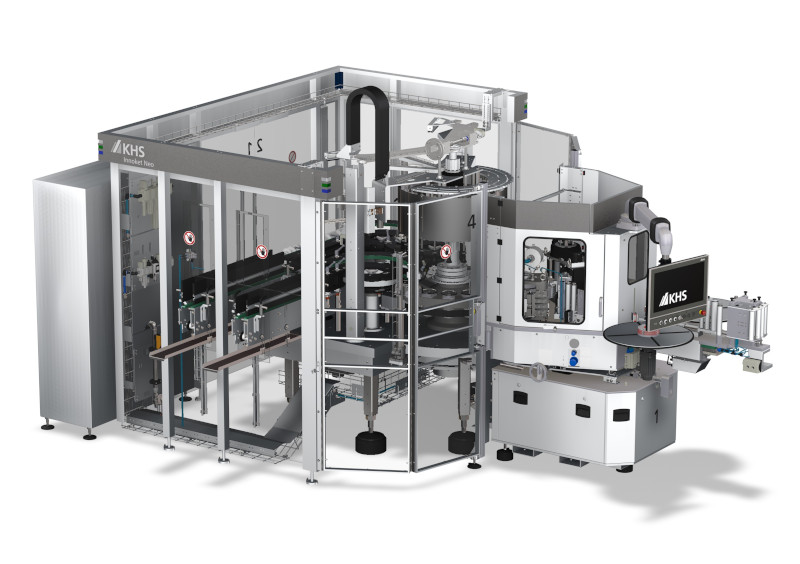 Good to know
The Innoket Neo RF is our efficient roll-fed station for the wrap-around hot melt application of film/foil or paper labels to cylindrical and rectangular one-way containers. The label material runs from the reel to the labeling station where it is cut to the exact length. Our optimized cutting system with self-sharpening cutters provides high operational reliability and constant cutting precision in the long term. Single or double-station versions are available for roll-fed labeling. Up to 60,000 bph can be labeled per hour.
Well thought out
Among the clever details incorporated into the labeling station are the innovative cutting unit and featherweight, aluminum vacuum segments which can be unlocked very quickly without tools using a single central lever and easily exchanged. With its innovative induction heater with perfect temperature control and slip-free transfer of labels to the vacuum drum the Innoket Neo RF also ensures long machine run times and fewer breaks.
Boost the efficiency of your PET filling and packaging line with our KHS InnoPET iflex modular automation concept with fast and reliable changeovers.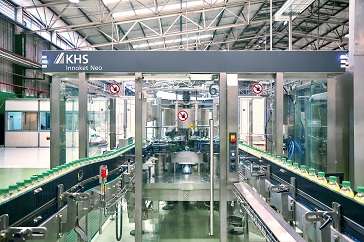 Further reading
Quality first
UCB in Cameroon makes just as high demands of its technology as of its own products. And KHS delivers – a PET line with a stretch blow molder/filler block, labeler, packer and palletizer.
Learn more
Convincing
Flexible, cost-effective roll-fed labeling station
Time and money saved by the overlap correction without a machine stop
Great ease of operation thanks to light ergonomic components and format changeovers without tools
Sustainable
Standard induction heater for greater energy efficiency
Images & videos
Consumables
KHS MULTI GREASE 01
KHS MULTI GREASE 01 is an high performance extreme pressure lubricant. It is suitable for centralised lubrication systems.
Material numbers: 301142150102, 301142150106, 301142150108
KHS GEAR FLUID 150
KHS Gear Fluid 150 is a fully synthetic high performance gear oil with EP properties.
Material numbers: 301142110912
KHS GEAR FLUID 460
KHS Gear Fluid 460 is a fully synthetic high performance gear oil with EP properties which have been specially developed for use in machinery used in the food and beverage processing and packaging industry.
Material numbers: 301142110207, 301142110209
Innocoll HML 2543
The product is suitable for labelling paper and PP labels to PVC, PE and PET bottles. The adhesive has a high "hot tack", good thermal stability and low fumes emission.
Material numbers: 301244605060