Innopack Kisters SP Advanced shrink packer
Innopack Kisters SP Advanced shrink packer
High-performance film packing for changing requirements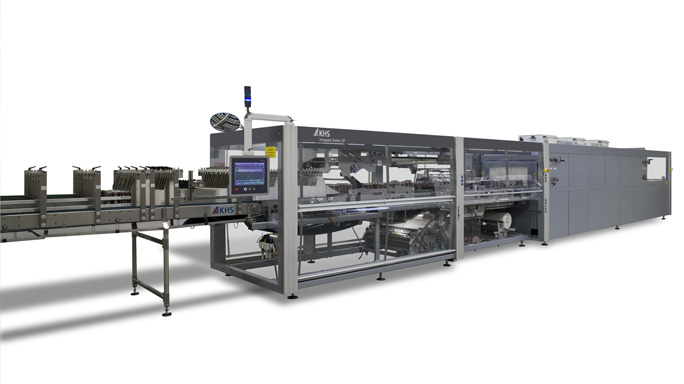 Good to know
The Innopack Kisters SP Advanced enables you to produce film-wrapped packaging for packs and loose products comprising PET or glass bottles or cans fully automatically. This modern shrink packer allows you to process a wide range of products from beverages such as soft drinks, water, and beer through food products to sanitary items. Thanks to three-lane processing, this modular packing machine operates in the high performance range at up to 24,300 packs per hour. Our range of services provides a reliable supply of spare parts and offers a number of conversion options to keep your line powerful, sustainable and future proof.
Well thought out
The various functions of the packing machine are modular in design. This has proven the entire design as exceptionally future-proof as effortless expansion of your existing packing machine is also assured at all times. Pressureless, gentle product feed of loose or pre-packed products and interlocking guide rails for perfect product control. By using control technology implemented worldwide, we additionally offer you optimum availability of spare parts and service. This economical and easy to operate shrink packer meets the demands of changing packaging requirements. Using film made of 100% recycled material also reduces the packaging's carbon footprint without any detriment to the pack stability or flawless appearance at the point of sale.
Boost the efficiency of your PET filling and packaging line with our KHS InnoPET iflex modular automation concept with fast and reliable changeovers.
Convincing
Simple and fast format changing ensure maximum flexibility.
Top quality standards and up-to-date servo technology assure up to 98-percent machine availability
Your advertising message is optimally presented thanks to perfect positioning of printed film
Sustainable
You can provide for the future now with the help of the modular design that is expandable at any time.
The gas-heated Eco shrink tunnel cuts your energy costs by up to 50 % and CO2 emissions by up to 60 %
Cut your carbon emissions by up to 65%* by using film made of fully recycled material
* According to market information from various film manufacturers
Options
Film made of 100% recycled material

Brief description: All KHS shrink packers can also be converted to this type of film. This upgrade can usually be easily retrofitted during ongoing production.

Benefits: By switching over to film made entirely of recycled material, you can significantly cut your carbon emissions in the packaging process in the long term without having to do without safe, high-quality secondary packaging.

Convincing: Should you have any questions about possible film thicknesses, shrink results or appearance, please feel free to contact us. On request we can test the film provided by your supplier at our special film laboratory for these parameters and give you the go-ahead for conversion quickly and reliably.
Consumables
KHS MULTI GREASE 01
KHS MULTI GREASE 01 is an high performance extreme pressure lubricant. It is suitable for centralised lubrication systems.
Material numbers: 301142150102, 301142150106, 301142150108
KHS HIGH PRESSURE GREASE 02
KHS High Pressure Grease 02 is a water resistant extreme pressure lubricant.
Material numbers: 301142150204, 301142150210, 301142150202
KHS BEARING GREASE 06
KHS Bearing Grease 06 is specially developed for the grease lubrication of machinery in the food and beverage processing and packaging industry.
Material numbers: 301142150606
KHS CHAIN FLUID 150
KHS Chain Fluid 150 is a fully synthetic high performance, anti-wear chain oil which have been specially developed for use in machinery used in the food and beverage processing and packaging industry.
Material numbers: 301142110105, 301142110107
KHS GEAR FLUID 460
KHS Gear Fluid 460 is a fully synthetic high performance gear oil with EP properties which have been specially developed for use in machinery used in the food and beverage processing and packaging industry.
Material numbers: 301142110207, 301142110209