Innopal RG robot grouping
Innopal RG robot grouping
The robotic system for exact layer formation and container distribution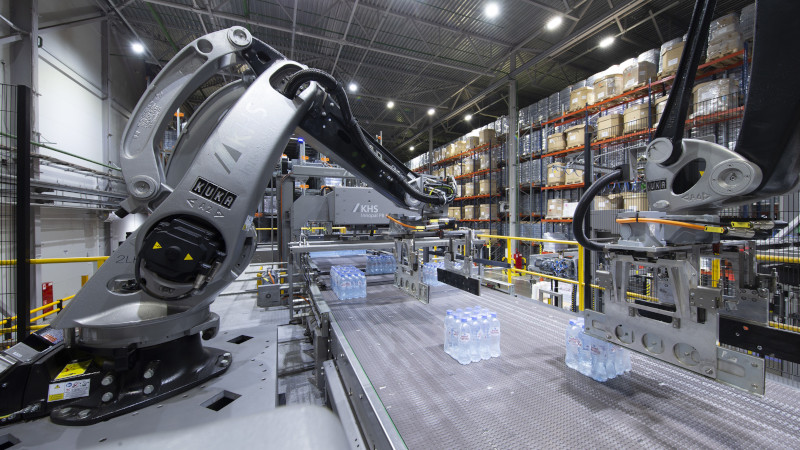 Good to know
The Innopal RG is a grouping system that forms individual layer patterns with convincing accuracy. Its modular design enables it to master different line capacities with both flexibility and precision. You are totally free in your selection of products as the Innopal RG processes all standard packaging systems on the market, including KHS' own Carton Nature Pack and Nature MultiPack packaging styles. Furthermore, you can connect the robot system up to any available KHS palletizer to form a powerful combination of machinery. With its servo-motorized gripper heads and centering, the Innopal RG can accurately create a practically limitless variety of layer patterns and transfer these to the palletizing machine.
Well thought out
The Innopal RG gives you convenience and functional safety on one machine. Operation of the robot grouping and palletizer is simple on the 21" HMI panel. The open design gives you easy access. You can also trust in the precision and functionality of our engineering: the proven KHS infeed concept makes container conveying both reliable and gentle on the product. Challenging combinations such as shrink packs with petaloid bases are also not a problem for the Innopal RG and the container conveyor. Packs are precisely picked and placed by a positive-fit gripper head designed by KHS. The machine is connected to our Remote Diagnostic Service as standard – for permanently reliable production and line availability.
Boost the efficiency of your PET filling and packaging line with our KHS InnoPET iflex modular automation concept with fast and reliable changeovers.
Convincing
Packs are gently handled by positive-fit, servo-motorized parallel grippers
A gripper head with crash protection gives the machine and product consistent protection
Flexibly expandable, modular design for up to three robots for maximum grouping performance
Sustainable
Allow yourself to be convinced by long-term, low-maintenance operation with safe production processes and high machine availability
Benefit from the compact design and low noise emissions
The Innopal RG manages quick product changeovers with hardly any format parts