Good times with KHS
Good times with KHS
The young and individual Oskar Blues Brewery believes in having fun at work, innovation – and machines from KHS. The impressive result is an annual 50% increase in sales and top place for sales of beer in cans among America's craft breweries!
The brewery's success story began in 1999 when Dale Katechis opened his first restaurant near Longmont in Colorado. A short time later, he started brewing his own beer on the recommendation of friends. His trademark was to produce creative beer brands with a distinctive label, such as Dale's Pale Ale and Mama's Little Yella Pils.
Katechis' beer was so successful that he soon expanded his business and in 2002 became a craft brewing pioneer when he opted for a container with a future – the can. His decision was spot on – as the brewery's steadily growing sales impressively prove. The unconventional working environment at Oskar Blues, which includes listening to music while filling and beer tasting sessions during breaks, helps to attract committed employees and has become something of a brewery trademark.
In 2011 and 2012 Katechis invested in two Innofill DMD canners from KHS which proved convincing with an output of 16,800 cans per hour and have since done much to further the company's success.
Numerous regional and national awards, ranging from the Great American Beer Festival and the World Beer Cup to the United States Open Beer Championship (2013: tenth-best brewery out of 2,500 beers submitted worldwide in 68 categories), impressively prove that KHS and Oskar Blues Brewery are a real dream team!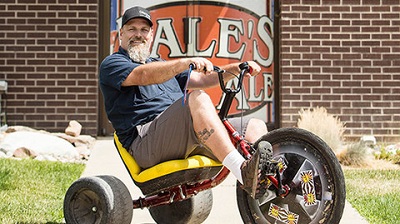 Oskar Blues
1999: started as a brewery restaurant.
Two breweries in Longmont, Colorado and Brevard, North Carolina
2002: first can filler to be installed in a craft brewery in the USA
2013: 125,000 barrels; thus in second place among Colorado's craft breweries and number 27 in the USA (2011: number 50)
Main brands: Dale's Pale Ale (60%) Mama's Little Yella Pils and Old Chub Scotch Ale (10% each), mainly in 12-oz cans
Markets: Colorado (main market) and 31 other US states; exports to Sweden, Canada and the United Kingdom.
Web: www.oskarblues.com
"For us, KHS technology has been the epitome of top quality for a long time. Both of our can fillers confirm this in practice and impress us anew every day."

Jim Weatherwax, Technical Manager of Oskar Blues, Longmont riding on the brewery premises.