Think global, act local
Think global, act local
Small but effective: the American craft brewery Lakefront focuses on unique beers with regional references. With the reliable KHS Innofill Glass Micro filling system, the brewery is investing in its future and laying the foundation for future growth.
Everything begins with a book given as a present over three decades ago: the brothers Russ and Jim Klisch are immediately on fire and start their first brewing experiments in the kitchen at home. Their hobby quickly becomes a passion which pays off; in 1987, they deliver their first barrel of beer to the nearest pub.
The demand for their unique beers increases, and the part-time hobby becomes Russ Klisch's full-time profession in 1995. The owner of the craft brewery is convinced that, above all, the high quality of his beers and the courage to explore innovative solutions, brands and niche products are the reasons for the success of his Lakefront Brewery.
His declared aim: further growth, increased export activities and deliveries to all 50 US states. For this reason the company is putting its trust in the know-how of KHS and has recently invested in the new KHS Innofill Glass Micro filling system.
With the innovative filling system, the company can meet the constantly increasing demand. The high-performance machine fills up to 17,000 bottles per hour in a 12 and 22 ounce long neck format, but in principle can also be used for bottle sizes from 0.1 to 3 liters, as well as to fill carbonated non-alcoholic beverages. In this way Lakefront remains flexible and is perfectly set up for the future.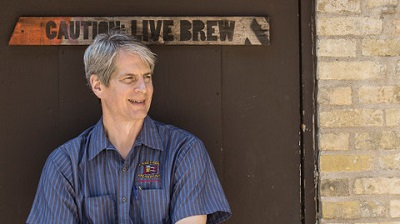 Lakefront craft brewery
Founded: 1987
Annual sales 2013: approx. 40,000 barrels
Product range: over 20 beer varieties; most significant brand "New Grist" (first federal label approved gluten-free beer in the US)
Sales markets: Wisconsin (60%), 34 other US states and Canada; exports to Australia, Japan and South Korea
Product prizes: over 100 regional, national and international awards, including the Great American Beer Festival, Los Angeles International Commercial Beer Competition, Chicago Beer Society Tasting, European Beer Star Award, Australian International Beer Awards, and World Beer Cup
In 2007, the company became the first brewery in the state and the first company in Milwaukee to be "Travel Green Wisconsin" certified by the Wisconsin Tourism Center for ecological sustainability
"With the KHS filler we can continue to grow! Since it was installed, the filler has run perfectly. Our laboratory continually provides us with confirmation of outstanding filling results."

Russ Klisch, owner of the Craft brewery Lakefront, Milwaukee, Wisconsin