Nine systems in 15 months
Nine systems in 15 months
Portugal's strongest beverage company in terms of sales and turnover makes the biggest investment in its nearly 125 year-long history and will consciously put its trust in KHS as a supplier and partner of the hour.
The Portuguese beverage producer Unicer Bebidas came into being as early as 1890. Its history has been shaped by numerous strategic reorientations, which have brought the company to the top of Portugal's beer and water market today. Previous milestones include, for example, the privatization of the state company in 1990, followed by diversification into non-alcoholic beverages, wineries and coffee production in 2001, and finally the revival of the traditional brewing and water sector in 2006.
The successful company currently operates in around 50 foreign markets in Europe and beyond. In order to maintain its leading position, the managers recently dared to take a brave step and decided to implement an ambitious project:
Unicer invested around EUR 100 million in nine KHS systems and machines, which should be put into operation within a project period of 15 months.
In total Unicer ordered two turnkey glass lines, as well as three fillers for glass bottles, three keg cleaning and filling systems and a pasteurizer as replacement investments for existing lines. Thanks to sophisticated technology, a detailed system simulation and the consistent organization of all project partners, it was possible to adhere to the tight schedule – the implementation of one of the most significant investment projects in Portugal was a complete success.



Key customer benefits
Unicer saves energy, water and detergent and considerably reduces its power consumption
The best filling technology ensures the quality of beer in bottles or kegs over a long period of time
Ideal project preparation by means of a prior detailed system simulation
KHS training sessions for employees provide optimum preparation for commissioning
Unicer was able to fulfill its delivery obligations throughout the entire implementation period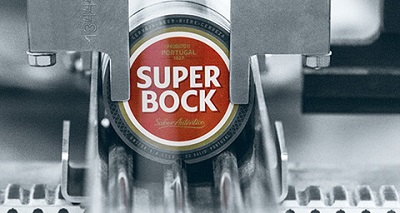 Unicer Bebidas
Founded: 1890
Shareholders: VIACER Group (Portugal) 56%, Carlsberg Group 44%
Number one in Portugal's beer and water market, total sales of EUR 500 million
Sales 2013: 3.8 million hectoliters beer, 1.7 million hectoliters water, 315,000 hectoliters other non-alcoholic beverages and nearly 6.5 million liters wine
Sales markets: a total of 50 countries worldwide, with a particular focus on Portugal (especially the Porto and Algarve regions), Angola and Portuguese settlements overseas
Selected future target markets: Brazil, Mozambique, Saudi Arabia (non-alcoholic beer)
Main beer brands: Super Bock (in six varieties; 84 % beer sales), Pils Christal (Portugal's oldest beer brand, 12%), Carlsberg (3%), Cheers (including non-alcoholic beer and beer-based mixed drinks, 2%)
Main brand carbonated water: Pedras (53% market share in Portugal)
Beer containers: in particular small bottles (0.2 l and 0.25 l glass bottles with over 50% share), increasingly with ring pull closures, as well as 0.33 l bottles and kegs, among other things
"We associate the KHS brand with the very best filling technology that will ensure the consistently high quality of our beer in bottles or kegs over a long period of time."

José Pinto, Plant Manager at Unicer Bebidas, Matosinhos, Portugal
"We are very pleased with our new filling facilities. They work with the absolute minimum of oxygen intake and are an important element of our quality concept."

José Pinto, Plant Manager at Unicer Bebidas, Matosinhos, Portugal