A systematic revolution
A systematic revolution
This is true pioneering spirit; in a joint pilot project the Bitburger Brewery Group and KHS have developed a manufacturing execution system or MES which is specifically tailored to the beverage industry. Innoline MES now provides companies with a complete integrated system which takes one step further towards the advent of the smart factory.
The demands and processes in beverage production are becoming increasingly complex. In 2010 this prompted KHS to look for a customer who was prepared to invest both time and expertise in developing a manufacturing execution system based on standard software which was specifically customized for the industry. In the Bitburger Brewery Group KHS quickly found the perfect partner for its pilot project.
A specially compiled team of experts from Bitburger and KHS drew up a detailed concept and defined which functions a MES for the beverage industry would need to generate the maximum benefit. The project had three main goals:
The optimization of administrative processes
The reduction of costs through detailed process analysis
The production of standardized evaluations for improved comparisons.
The MES also had to be able to communicate with the ERP or enterprise resource planning system and various other systems, such as those used in logistics, enabling the entire control process to be managed in production in real time.
Bitburger and KHS developed the Innoline MES based on the existing HYDRA MES from MPDV Mikrolab GmbH, one of the leading providers in this field. The IT system comprises six selectable modules – line monitoring, order scheduling, order execution, order material tracking, recipe management and production analysis – and meets the individual requirements of the beverage industry. The system documents the entire production and other processes with maximum accuracy and sends this data to the ERP system for optimized business process management. This software system thus takes one significant step further towards the smart, networked production process, bringing the beverage industry closer to the vision of Industry 4.0.


"The system provides us with the relevant performance indicators for all kinds of scenario at the press of a button. It couldn't be better!"

Rudolf Wahl, head of the Central Filling and Filtration Department at the Bitburger Brewery Group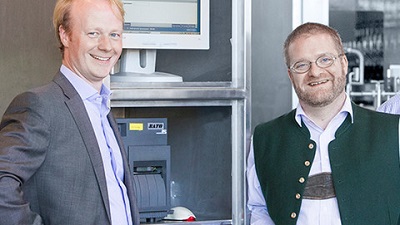 Industry 4.0 – the production revolution
A new form of production is set to revolutionize the factory floor in the next few years,with workpieces and products increasingly controlling their own production processes. Experts believe this development represents the fourth industrial revolution after the age of the steam engine, the introduction of the assembly line and the advent of automation. The objective is to create the smart factory which is distinguished by its versatility, efficient use of resources, ergonomics and the integration of customers and business partners into the business and value creation processes.
Professor Henning Kagermann, member of the Executive Board for the German National Academy of Science and Engineering (acatech) in Munich, Germany, sees great potential here. "This new production technology gives companies the chance to manufacture with greater economy, more energy efficiency and improved customer specification."
"The Innoline MES is now giving us excellent service at the Bitburg site."

Dominik Polster and Rudolf Wahl